The beautiful Northern Italy goes through a deep valley. The Corona lockdown of the whole country may take a few more months. Yet we remain positive, because nothing is forever. That's why we put South Tyrol, one of our favourite regions of Northern Italy, in the spotlight with seven tips to look forward to.
Text: Angelique van Os | Photography: South Tyrol/Südtirol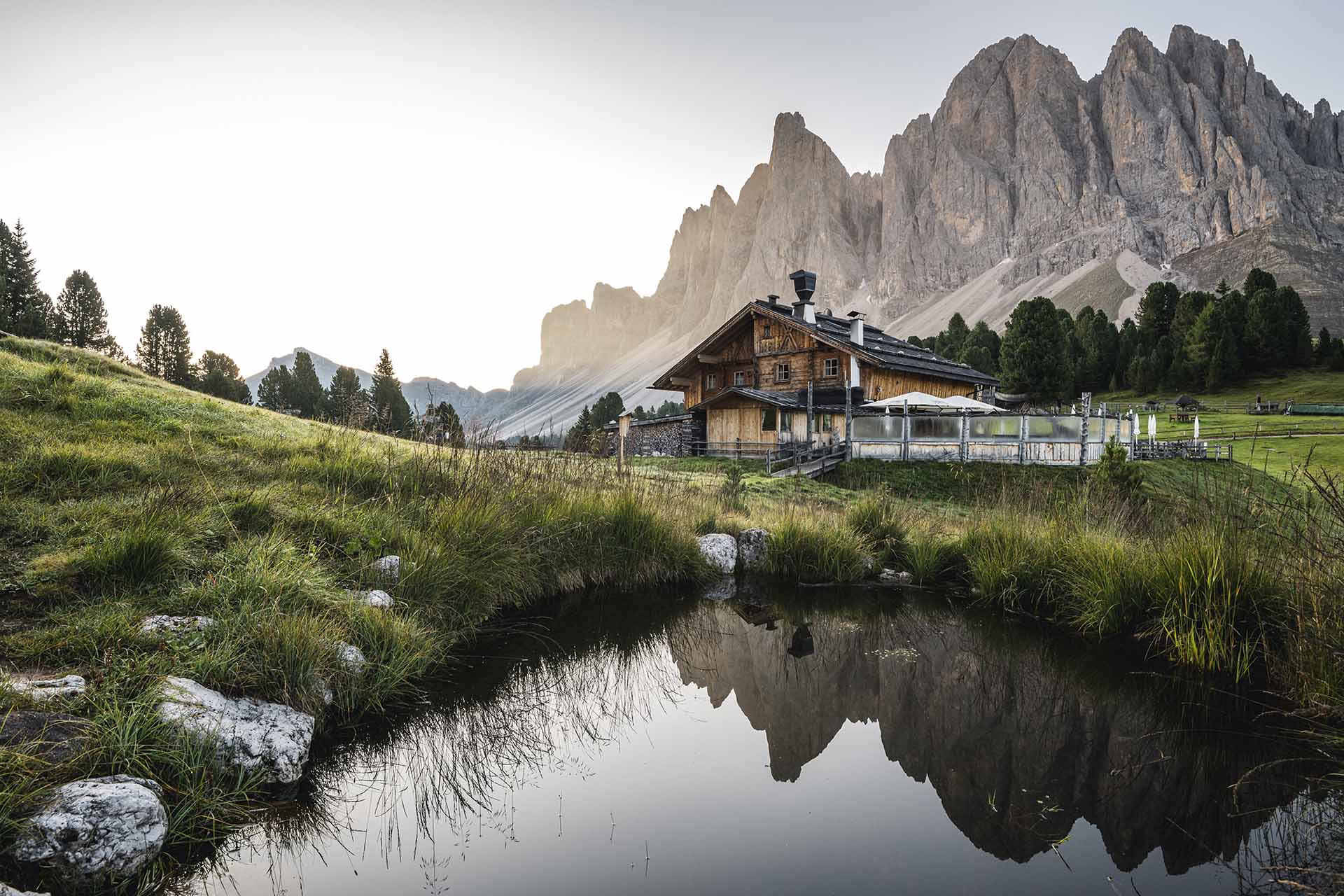 South Tyrol is the northernmost province of Italy an lies on the south side of the Alps. The mountains in this area are known as the Dolomites. It is sunny no less than three hundred days a year, making it the ideal destination for outdoor enthusiasts, there are many culinary delights in this area and it has a rich cultural history. The region consists of a mix of three languages: Italian, German and Ladin. For over five hundred years the country belonged to Austria, which changed in 1919. came A division arose, which the Italians appropriated. The Ladin people had always lived in the mountain border area. Now that centuries of tensions have passed, a unique culture has emerged, in which the population 'rediscovered' each other by tasting each other's culinary qualities and Mediterranean lifestyle.
1. South Tyrol Jazz Festival Alto Aldige
The first travel story I ever wrote was in 2011 and was about Südtirol Jazz Festival Alto Aldige and the culinary region around Bolzano. Unfortunately there is very little chance that this year's multiday event the last Friday from June to the first week of July will take place because of Covid19. But there will be more years to come. So make a note in your agenda.
The SJAA, which exists for almost 40 years, is characterized by organizing concerts at many different locations in and around Bolzano, Merano and Brixen: from theatres, barns, cellars, wineries to mountain hotels, old castles and parks. The cosy town of Bolzano/Bozen is the central heart of the multiday music festival. The adventurous programming often focuses on European jazz; from old style to contemporary electronics. In 10 days 150 artists pass by in about 90 concerts at 50 different locations. By the way, food and drink (wine!) are well integrated in the festival and you get a good idea of the various surroundings by visiting the various stages.
2. AlpINN
While entrepreneurs of Alto Aldige are fighting the fight against the Corona virus with all their might, for example by making recyclable woolen mouthpieces and husks (Oberalp Group), fortunately there is also some happier news. For example, the AlpINN restaurant was recently named the most beautiful museum restaurant in the world during the prestigious LCD Awards (Leading Culture Destinations) in Berlin. The restaurant is special just because of its unique location at the top of Kronplatzberg. These awards are also known as 'the Oscars of the cultural sector'. De Volkskrant is also enthusiastic about this ski area, where you can go hiking in summer. The restaurant is part of the LUMEN museum of mountain photography and is run by star chef Norbert Niederkofler and Paolo Ferretti.
Guests enjoy a highquality menu that is composed with ingredientdients that are found in this mountainous area. The dishes are modern interpretations of traditional classics. All this also tastes just a little bit better thanks to the spectacular view that is served free of charge. South Tyrol also has the highest density of Michelinstarred restaurants per square kilometre in Italy.
3. Virtual walking and flying
Although we can't physically go to Südtirol right now, it is possible to taste the atmosphere and get inspired. For example, you can take a virtual walk between the peaks of the Drei Zinnen or enjoy the view of the highest point of the Texelgruppe nature reserve. We admit, it's not quite the same, but this way you'll get out of here anyway! More virtual views can be found HERE.
If you want to go a step further, explore the region using a 360-degree camera.The images are shot from a helicopter and show the beautiful Dolomites. Perhaps you're spotting a mountain peak where you've walked or skied?
4. Bruschetteria Fishbanke
For the ultimate summer- and relax feeling you have to go to Cobo. This friendly host runs – without exaggerating – one of the best bruschetteria's in northern Italy! The old fish market is home to his eponymous business. However, it looks more like an exotic gourmet harbour, because of the cheerful terrace and the many colourful beach signs. Relaxing and de-stressing is mandatory here. That's no punishment and goes completely by itself with for example a delicious homemade Hugo cocktail in front of your nose, complemented with a variety of bruschetta's. From traditional mozzarella tomato and rocket salad to various fish and meat varieties. They are all delicious and freshly prepared. Just for this I like to go back to Bolzano.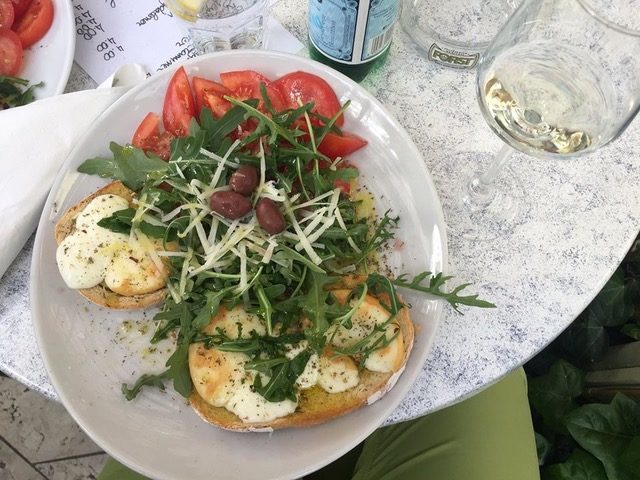 5. Winestraβe & special wineries
You're also good in this region for wine. Approximately two-thirds of Italian wine production comes from the so-called 'wine street' of South Tyrol and is renowned for its high quality. More than twenty types of wine and three indigenous grape varieties grow in this area: the Lagrein, Vernatschand the famous Gewúrtschtraminer.
From Bolzano to the southern lowlands runs a beautiful panoramic route (right through the Parco Naturale Monte Corno, which can be combined with the Weinlehrpfad. It is bursting with wineries. One of my favourites is Cantina Tramin, named after the village of the same name, which has beautiful views over rolling vineyards and picturesque mountain peaks.
Elena Walch was the first female winemaker in South Tyrol and has now handed over her wine house of the same name to her two daughters. They have travelled all over the world to find new inspiration and apply modern techniques to winemaking. In doing so, they give their own contemporary twist to the wine empire and sell
You can taste wine yourself in the two wineries in Tramin and Caldaro and order online even if you can't wait to visit South Tyrol.
Two more tips:
Pfitscher; known for its fresh wines from the steep mountainsides (CasaClima).
Manicor, a biodynamic wine from Caldaro.
6. Cabin trips
South Tyrol can be a busy destination, especially in winter and summer. This certainly applies to outdoor activities. Those who want a little more seclusion can take a multi-day hut tour that the general public will not be able to walk.
This hike takes you through the Stilfserjoch /Stelvio Nature Park, which borders on the Swiss/Italian National Park Adamello-Brent. On the other hand Stelvio covers an area of 134,620 ha, which is divided over other Italian provinces such as Trento, Brescia and Sondrio.
The peculiarity of this route is that a part is different every year, because the poles along the route have to be moved every season due to movements of the glacier.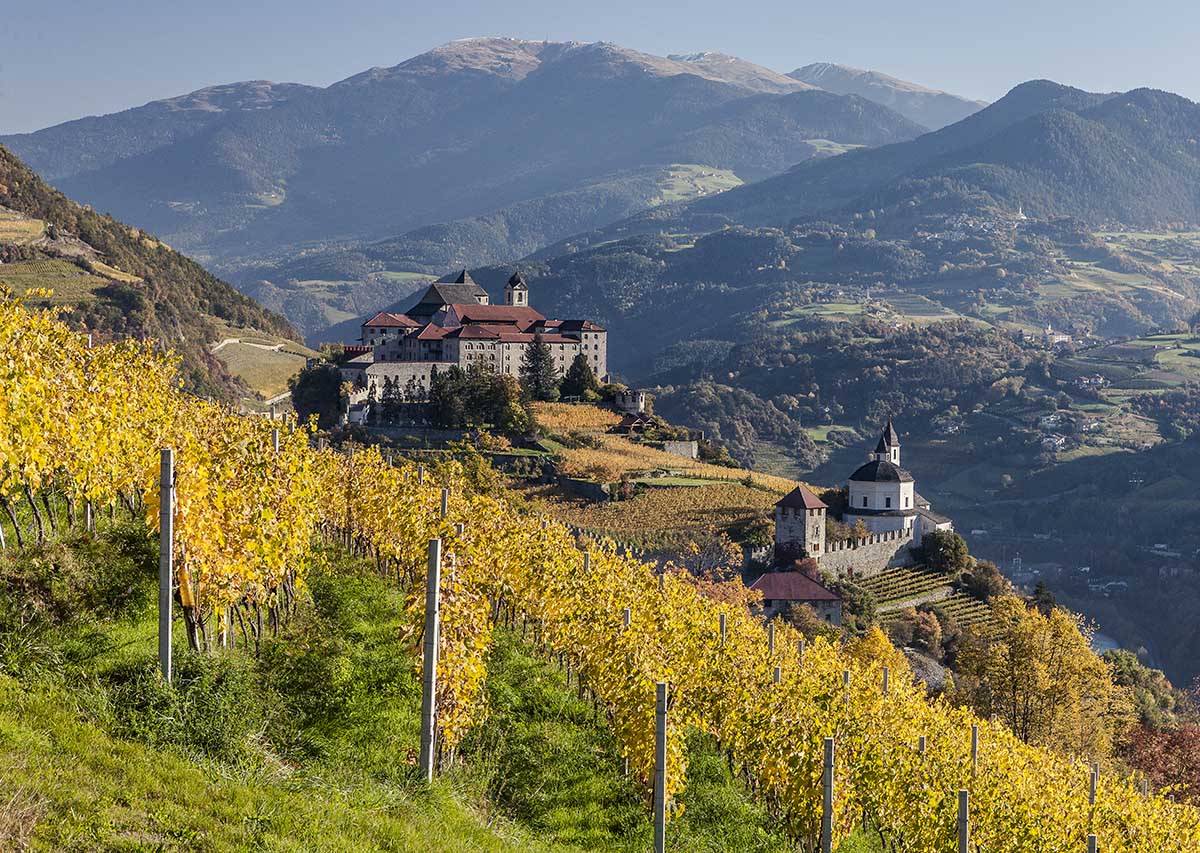 7. Long distance walk
If you are even more looking for a challenge in the high Alpine peaks, you can hike almost 100 kilometres in five to eight days. The long-distance route runs through the Texelgruppe Nature Park, and seems to have beautiful views, varying from the Meraner Land, Vinschga Valley to the Dolomites. During this route you can clearly see the influences of both the Mediterranean culture in the valley and the alpine lifestyle in the mountains. There are also day trips possible. This trip requires trained legs and a good condition. zuid-tirol-meran Walking around Merano.