Samuel White Baker and his wife Florence already knew around 1860 that Uganda was not just a stopover around the rich Tanzania, Kenya and Congo. The explorers experienced this pristine Africa for four years, as they descended on foot via Sudan to the south, in search of an immense lake that they baptized Albert N'yanza.
Text: Angelique van Os | Photography: Henk Bothof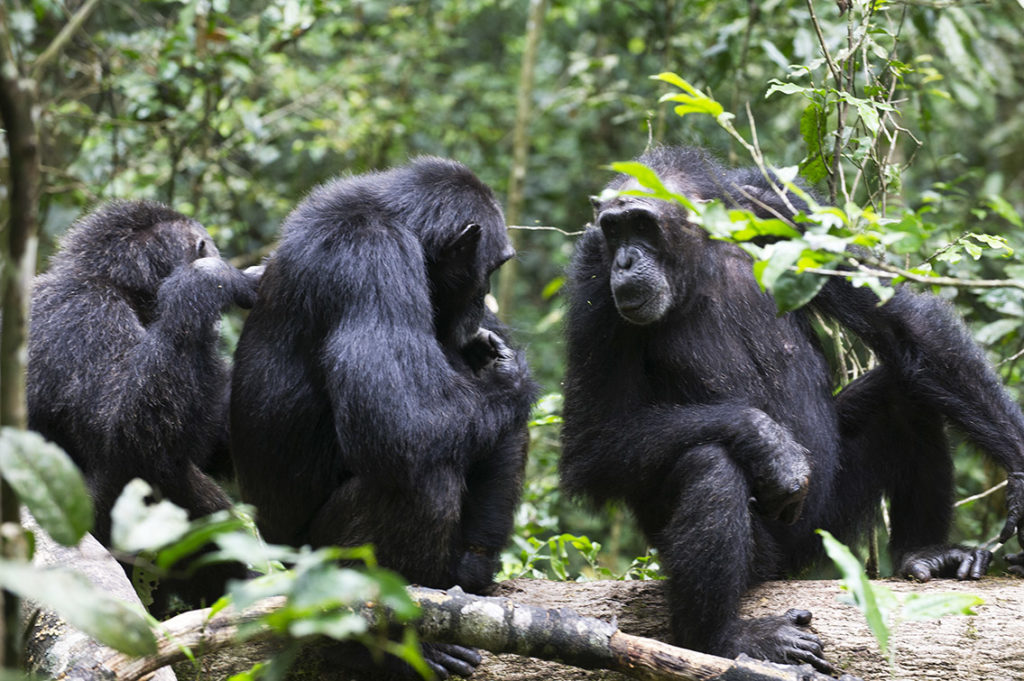 "The victory of our prize was suddenly in front of me! (…) (..) In the south a boundless horizon of water, glistening in the midday sun; and to the west fifty to sixty miles of blue mountains, rising from the bottom of the lake. It is impossible to describe the splendour and victory of that moment", said Baker in 1864. In the 20th century, Uganda underwent decades of terror (Idi Amin, 1971- 1979 and Joseph Kony, 1990-2006). Since 2008, things have improved and the country has kept its authenticity without mass tourism. Its greatest asset: the highest density of primates in the world, the origins of the Nile, the highest African mountain range (Rwenzori Mountains) and eleven national parks with a rich diversity of landscapes, with which the Bakers fell in love. We'll highlight eight of our favourites for you
1. Kidepo Valley (1962)
The ground trembles, and in the distance an enormous cloud of dust is created. Hundreds of buffalo waltz over the vast savannah and come to a standstill at a small river. A group of elephants observe the herd, chewing on the fruits of sausage trees, the skins of which can be drunk. Nothing but space, green-yellow crops, rolling hills and vast valleys, surrounded by the Morungole mountains and a single acacia tree.
Sometimes it's in Kidepo Valley looking for game; it runs around, but hides in the high grass. Yet Kidepo is a pearl, one of the last pieces of really authentic Africa, because of the pure untouched landscape, the beautiful views, the peace and quiet and the possibility of walking safaris, where you like a hunter between the zebras, giraffes and antelopes sneak through. Our favourite and you won't see many other tourists because of its isolated location.
Size: 1436km2
Accommodation: two camping pitches and banda's (basic houses). Luxury: Apoka Lodge. Luxe: Apoka Lodge.
Remarks: few other tourists because of isolated location. Minimum stay of three days. Rare game with good luck only in this park to spot: cheetahs, kudu's, earth wolves, eland antelopes. Birds: giant stairs and ostriches. Avoid the rainy season (oct-nov).
The Apoka Lodge is pricey (about 500 dollars per night), but this luxury residence is a gem in this unique park (see picture below). All rooms have beautiful wide views and there is a good chance that elephants, water buffalos or waterbucks walking by will be at your doorstep. Look HERE for more info.
2. Murchison Falls (1952)
The grey, more than 1.20 meter long bird stands on one leg. With its big yellow eyes and curved beak, it focuses on the water. This way it can stand for an hour. The rare shoebill cage boat attracts bird lovers from all over the world to Uganda, such as here around the delta where the Albert lake and Vicotria Nile meet. The park was almost poaching in the 1980s. Now it has the highest game and bird population in the country. Game drives over rolling savannahs, vast and soppy marshes are a nice alternation with boat trips to observe the fertile life on and around the water. The shoe cage boat is still staring at the water, and then suddenly: snap! He has caught a lungfish and disappears into the high papyrus forest.
Accommodation: from wild camping to luxury lodges.
Size: 3893 km2, largest park
Remarks: boat safaris on the Nile and lakes, impressive waterfall; can be visited at close range via the walking route. Wildlife: big four (except for the rhino, which lives protected in the Rhino Sanctuary in Ziwa, about three hours drive) and rare birds, such as the Goliath heron (largest species in the world).
3. Kibale Forest (1993)
In the distance you can hear screams. For a moment the group of tourists stiffens up and looks around a bit fearfully in the rainforest. "No worries," the guide says reassuringly. "The chimps invite each other to eat together. They are in the neighbourhood." The guide talks in the walky talky. "Follow me," she says whispering. After about ten minutes of walking, the sound increases. The noses go up towards the meters high trees. The monkeys are far away, sheltered between a dense canopy, but sometimes they suddenly climb down. Like a curious little man, wandering around on the ground for a few minutes and chewing on a fig in a relaxed way. The walky talky scratches again, the group continues. Another group of trackers has found four chimps sitting on a fallen tree trunk. There is a lot of cuddling, scratching and cuddling. How touching!
Size: 795km2
Accommodations: various lodges; Chimp's Nest is beautifully situated on a mountain overlooking the Rwenzori Mountains. Eco lodges are located in the forest. There is also a tree house.
Remarks: the largest primate density in Africa, including the black and white fringe monkey, the red tail monkey and the blue monkey. The park to see chimpanzees. On request it is possible to go on a trip with researchers.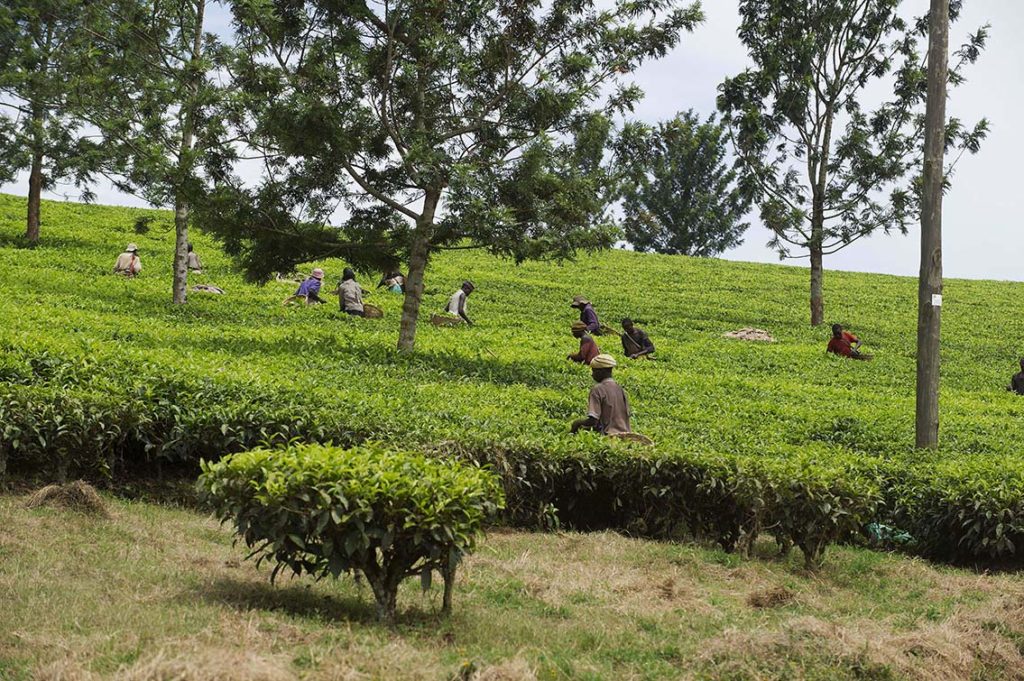 4. Rwenzori Mountains (1991)
Even before the first steps in the park it's already plentiful. Starting at an altitude of 1600m it's more than three hours before the first stop it's sopping steeply up. The Mahoma Trail has been in use since August 2012 and together with the 'old path' forms the most interesting and challenging of eight trekking routes. After several days of climbing, these two paths lead to the eternal snow of Margherita (5109m), Africa's third highest mountain. The Rwenzori mountain range, however, is the highest on the continent. The rich vegetation is overwhelming: from meters high 'mikado bamboo trees', fields full of ferns, fairytale Old Man's Beard trees (frayed strings as leaves) and the picturesque Rukenga Valley that is surrounded by some giant lobelias.
Size: 996km2
Accommodation: simple cabins, or bring your own tents and sleeping bags, because local material is unhygienic.
Remarks: unique vegetation. Good condition and mountain experience required. Hiking tours of two to seven days. Boots and waterproof clothing are a must.
Rare animals: blue Turaco bird and three-horned chameleon (you can see the chameleon on our header).
TIP: also read our report about this beautiful park here.
5. Queen Elizabeth (1952)
Growling hippos, whining jackals, roaring lions, elephant letter and screaming chimps in the tropical forest. In the morning and evening there is an overwhelming cacophony of animal sounds in Uganda's most popular destination:Queen Elizabeth. This park is popular because it presents almost all types of ecosystems and landscapes, attracting a variety of animal species. Untouched Africa in a nutshell.
Size: 1978km2
Accommodation: diverse; hotspot: Bush Lodge.
Specifics: as well as Murchison Falls, a must for wildlife and bird lovers (six hundred species). Activities in and around the park: tree climbing lions in Ishaha, walking around crater lakes.
TIP 1: The Kyambura Gorge is a 'hidden' tropical forest in a deep gorge, on the edge of the national park. A number of chimpanzee families live here under the special protection of, among others, Volcanoes Safaris. A number of chimpanzee families live here under the special protection of, among others, Volcanoes Safaris.
TIP2: A unique experience is a safari trip with biologist and scientist Ludwig Siefert and his assistant James Kalyewa who have been committed to The Uganda Carnivore Program for years and are trying to maintain the population of lions, leopards and hyenas. When you go on a trip with Lu, you'll undoubtedly find a group of lions, and especially, you'll get very close, because he can spot them off-road because several of these hunters wear a collar and they're being monitored. An evening trip is also an experience, even if you don't spot wildlife. Because Lu is a bit tense with sounds that he plays in the dark with his animal recording device. And you also support his research and the protection of these felines, who are losing more and more living space in this area by moving villages.
6. Bwindi (1991)
Everyone's holding their breath. The impressive silverback suddenly turns to the group of tourists at a height of a few metres, chewing on a leaf in a relaxed way. Nobody moves or makes a sound, only cameras click through at high speed. According to the ranger who has been visiting the Mshongi family every day for eight years, it rarely happens that this silverback is so vulnerable. It is one of the nine monkey families (720 in total) that live in the wild in the impenetrable forest. Nonchalantly, the gorilla keeps an eye on its spectators. The rare great apes are a lucrative business for the Uganda Wildlife Authority (UWA) and the Ugandan government. They provide 60 percent of the income from tourism. An hour of 'see monkeys' watching for at least $500 per person is a lot of money, but this once in a lifetime experience makes a big impression. When its branch is eaten, the silverback lets itself slide off the canopy lightly like a feather and disappears into the jungle. Everyone laughs and can breathe again.
Size: 321 km2
Accommodations: various. Tip: Wagtail Eco-lodge.
Remarks: The search for the gorillas is an experience in itself, through the beautiful ancient rainforest. Watch out for steep and slippery areas. Hire a carrier for $15. The local population receives 5% of the park's revenue and is used for the maintenance of the forest.
7. Mghahinga Gorilla & Muhuvura volcano (4127m)
The golden monkeys dance gracefully from one branch to another. It almost goes wrong when a monkey swings over the metre-high bamboo plants and falls a few metres to the ground. Luckily there is a long tail, with which it catches itself easily. This fast-paced monkey species, of which there are about 1100 live here, is relatively unknown. In Mghahinga live also gorillas. This park is surrounded by a layer of forest, bamboo, heather and the Virunga Volcanoes, which in Uganda consist of the Muhuvura, Gahinga and Sabinyo (and two other volcanoes, but which are located in Congo and Rwanda). The ascent of the Muhuvura (4127m) is a tough trip with the risk of altitude sickness. It is possible that – as happened to Angelique – you have to leave at a few hundred meters because of severe headaches. If you are physically strong enough – like Henk – there is a tough last climb over narrow and smooth wooden ladders and stairs waiting for you. A carrier is necessary here and make sure you have enough food and drink. Arriving at the summit the satisfaction is great with fields full of giant lobelias and a crystal clear crater lake, where you can quench your thirst. There are at this height namely no parasites. As if you have a small, uninhabited prehistoric island all to yourself. And with a clear blue sky, the wide view reaches as far as Queen Elizabeth NP.
Size: 33km2
Accommodations: camping is possible at the foot of Mgahinga and Sabinyo. Travelers Rest in Kisoro (40 minutes drive) is a fine hotel. Formerly base of gorilla protector Dian Fossey.
Details: Golden monkeys live only here. Gorilla-trackings (partly in Rwanda) are less crowded than in Bwindi. With a good condition and some mountain experience nicely to combine with volcanic hikes in the border area of Congo and Rwanda in two days.
8. Lake Mburo
The hippopotamus opens its mouth towards the passing motorboat. Further on a tiny bright blue kingfisher attracts attention, while high up in a tree an African osprey dries its wings in the sun. Around Lake Mburo there is a lot of liveliness. This park is a mix of five lakes, swamp, acacia trees, low scrub and open savannah and is surrounded by precambrian rocks. Off-track cycling or horseback riding between zebras and antelopes provides an intimate safari experience. However, the zebras beams and run off as soon as the camera emerges.
Size: 370km2
Accommodation: Tip: Rwakobo Rock, an eco-lodge with eight sober-chic cottages with breathtaking views. Good kitchen and bike rental. Further camping at the lake.
Remarks: compact park with many activities and therefore a nice ending of a tour. Horseback riding is possible via luxury Mihingo Lodge. With small boats (8 to 10 people) you are close to the animals in the water.