When people think of southern Portugal, they quickly think of the busy beaches of the Algarve. The adjacent Alentejo region may have a more beautiful and rugged coastline that you only share with local fishermen. You can walk there for days on end. Inland, an unspoilt African-like landscape awaits you, where you can immerse yourself in tranquillity and nature.
Text: Angelique van Os | Photography: Henk Bothof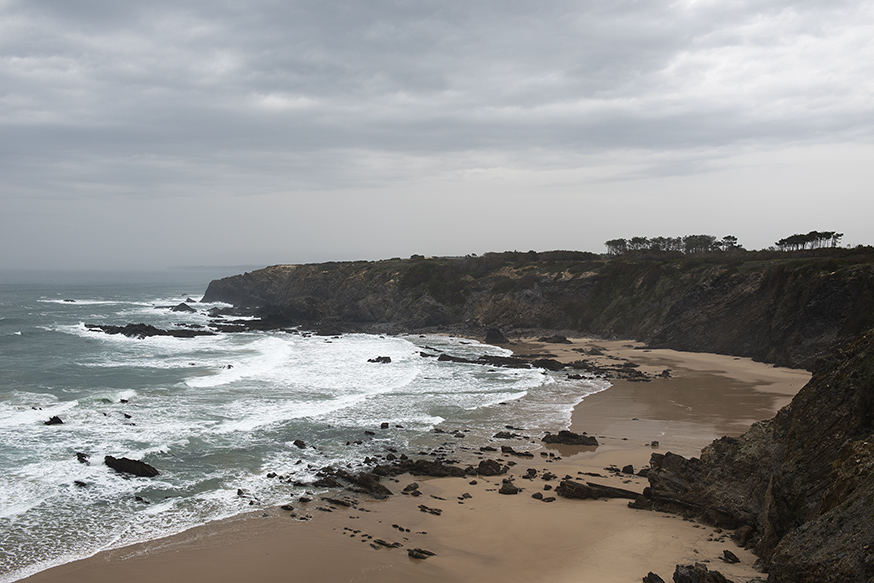 There's a strong wind. The salty seawater is pounding against the high rock formations. On the beach there are large blocks of slate reminiscent of New Zealand's famous Pancake Rocks: thin layers of sand, clay and volcanic ash that accumulated at the bottom of the ocean over 300 million years ago. In the distance, a stray fisherman with a metre-long line has climbed on a high cliff. There is no one else here. The fishermen seem to regularly risk their lives by throwing out their fishing rods or by going to the rough sea with small boats. It is part of the lifestyle of the small, authentic villages around the coast of Zambujeira do Mar, the southwest of Alentejo. Fishing means income for the hard-working workers in this traditionally poor region. And some of them (of necessity) look for some extra adventure.
Since 2012, the walking route Rota Vincentina with 120 kilometres connects the south-west coast from north to south Alentejo. This Fishermen's Route runs from Porto Covo to the southernmost point, San Cabo de Vicente. The multi-day trip is only accessible for hikers and winds through the protected natural park Parque Natural do Sudoeste Alentejana e Costa Vincentina.Inland there is a branch with the Historic Trip which is also suitable for mountain bikers and counts 231 kilometers. Inland there is a branch with the Historical Walk which is also suitable for mountain bikers and counts 231 kilometers.
On this somewhat turbulent day we only walk sixteen kilometres, but the cleanliness of nature, the peace and quiet and sometimes tough, narrow paths leave a good impression. From the beach we climb up via the marked decks, which soon turn into sandy paths. Sometimes the loose sand is so heavy, that I bale that I'm wearing walking shoes. The route compensates for this later, because we encounter enough rocky intersections where you don't want to walk on slippers or sneakers.
The metre-high stone formations offer a beautiful view over the sea and the villages in the distance. And the beautiful vegetation of all kinds of low shrubs, succulents and small purple, white and yellow flowers give a lot of colour to the surroundings. The narrow path merges into the varied landscape by following the rocks and dunes. Because of this we quickly take a look outside the path. Just peering up or down the rock through one of the many vistas. Then we see a pair of storks sitting on their nest. We can't get any closer from a suitable distance, because the cranes breed on large boulders that you can't just go on. As far as we know, this is the only coastal strip in the world where storks come to breed on rocks in large numbers. Inland we also see them regularly on high masts and in trees. There is apparently enough food for the birds and the mild climate is pleasant for them.
Idyllic beach
Meanwhile the wind has dropped a bit. The coast among us is getting rougher and smaller; less pleasant for people with vertigo. We are at Brejão, where the famous fado singer Amália Roderigues was housed for a while. The small, idyllic beach bears her name. We have the beautiful bay to ourselves. It has started to rain, while this region has an average of 300 days of sunshine. Not today; it's falling from the sky. When we arrive in the village we decide to have lunch and call André van Zambuijeira Adventures. Since this year he offers a transfer with a shuttle bus for hikers and their luggage that runs the Fisherman's Route. He also organises activities and rents out bicycles. Nothing is as changeable as the weather, because once back at our beautiful residence, Monte das Alpenduradas, the sun shines. Time to relax the feet, swaying with a glass of wine in your hand from the hammock.
The next day we travel by car to Vila Nova De Milfontes, a medium-sized coastal town with cosy restaurants and small squares. Here we meet the originally German Anke Ruschhaupt. She lives in Portugal for twenty-five years and has been running Eco-trails for eight years. She forms a collective with a number of partners, enabling them to offer a wide range of nature experiences, such as horseback riding, stand-up paddling and cycling. We go on a three-hour trip in a canoe, without a guide, up to Casa Branca (13 km). Longer canoe trips, such as two days sailing to Odemira, are also possible. Here you can camp halfway down the winding Mira river, where fixed tents are ready for use. Those who have time can walk back from here or from Odemeira or cycle through the interior.
On the water
Remarkably, the tide changes every six hours. Anke, who was originally a geographer, says: "During the ice age, the seawater flowed over the glaciers into the interior of the country. The sea level was very low thousands of years ago. At one point the glaciers were pushed down and a plate break caused flooding in the valley nearby. As a result, there is still such a large interaction between low and high tide. It provides a lot of life in and around the water, with many birds, fish and oysters."
Despite the fact that there is some wind and we have to paddle upstream, it is a calm river. It's just a matter of being careful when sailing under the high bridge of Vila Nova to avoid ending up in a stream. Furthermore, it's actually child's play. As soon as we sail between the hilly landscape the peace and quiet meets us. Only the twittering of water birds and the rippling water break the silence. After three hours of paddling I feel completely zen because of the beautiful landscape, only my shoulders hurt from the effort.

Quietness
We say goodbye to Vila Nova de Milfontes. Soon the landscape becomes more sloping, greener, rougher and wider. We cross the village of St. Luis and after some searching we follow the sign towards Monte da Estrada. Especially this area of Alentejo is very sparsely populated and an unspoiled region. More and more foreign hedonists are buying a second home here, in search of peace and quiet.
The winding roads lead us deeper inland, even though we're less than twenty-five kilometres from the coast. What a beauty of trees and rolling fields; the landscape looks African. When we reach the village of Monte da Estrada after fifteen minutes, we really go off road: an unpaved road full of potholes and puddles merges with nature. Everything is in bloom and is nice and green. That changes in summer: then it looks like the savannah because of the heat. There's not a soul to be seen anymore and despite following the signs, we wonder if we're doing a good job. After about three kilometres we see the blue and white fence of Figueirinha Eco-tourismo and two dogs bark at us loudly. With a big smile Paula Silva opens the gate. "There you are, welcome," she says warmly. As it is already evening, we can only see the contours of this special place. The darkness falls quickly, because this is one of the darkest areas and has the least light pollution of Portugal. When the weather is clear, you sleep here under a starry shower.
Positive energy
We can immediately join in the cozy kitchen of Paula and her husband Alexander. Guests can join us for dinner and enjoy homemade regional rights from our own garden. Figueirinha is completely self-sufficient. Alexander tells us that twenty-two years ago, after a long search, they bought this house and turned it into a family project. Alexander tells us that twenty-two years ago, after a long search, they bought this house and turned it into a family project. "We lived in Lisbon and came to the valley in the weekends to build the mud house. That took three years. Apart from the beautiful surroundings, this place is ideal because there are two deep natural water wells and a small river flowing behind the house during the winter months. So we always have enough water during the dry summer months. We generate energy and light with solar panels. Paula's father has done all the carpentry, like the lovely day beds. To set up ecotourism, we had to live here permanently. That didn't work out at the time and lasted until 2012." The couple had a direct connection with the location. Paula adds: "This is a place with a soul. It radiates positive energy and we are happy to be able to continue the heritage of the families who once lived here."
After a good night's sleep in our authentic apartment, we have breakfast the next morning under the covered terrace. From a typical Portuguese white stone bench with blue frames that merges into the house, I stare at the green oasis that surrounds us. Frogs bring a cacophony to the calls. The mating season has started and that's why they challenge each other. Sometimes they start around midnight and continue, as they do now, into the morning. Two cream-coloured hammocks gently sway in the morning sun. I walk across the green area, with (fruit) trees everywhere, an organic vegetable garden, a communal outdoor (pizza) oven and at the back of the beautiful natural pond that serves as a swimming pool. Here are also a spacious safari tent and a yurt, ideal for families.

"This is a place with a soul. It radiates positive energy and we are happy to be able to continue the heritage of the families who once lived here".
Green Paradise
Besides relaxing, there is plenty to do from Figueirinha. For example, there are two new footpaths that run through the valley and there are several cycling tours. Together with Alexander and his dog we take the short route of six kilometres. The longer variant is twelve kilometres and for those who go out with children it's also possible to bring a donkey.
We walk along hilly and sloping wide sandy paths, between the sheep and their newborn lambs, past olive trees, the common Azinheira tree and the famous montado cork trees. Portugal, with more than 52 percent, is the world's leading producer of cork. "Alentejo is known for its good quality cork. You have to be patient with these trees, because only every nine years is the bark ripe for harvesting. And peeling is a very precise and labour-intensive job. These 'naked' trees were harvested not so long ago. You can tell by the red colour. As far as I know, this has no negative effect on the tree", Alexander says. In the meantime, we arrive at Angel Man, a sculpture by the beloved Esmeralda Sobral, via a steep ascent. "Every year local pilgrims and believers come here to honour the statue, but above all to eat a lot. Because then there is extensive dining." After reaching the summit, we are rewarded with a beautiful panorama of the vast landscape. There is a picnic area and a barbecue. We follow the path over the narrow hills, ending at wide avenues with high vegetation of ferns and shrubs. We don't meet anyone, and even the birds don't let themselves be heard anymore. Nothing but green fields with yellow flowers, shining in the late afternoon sun. Back at the ecotourismo we feel rich in this true paradise. The encounter with Alentejo has overwhelmed us and we reluctantly return home.
Alentejo practical
Stay
Monte das Alpenduradas
Just outside the seaside resort of Zambujeira da Mar lies agri cultura Monte das Alpenduradas. This is a quiet and green base during a multi-day tour of the Rota Vincentina. The family farm was after a long renovation from 1990 to 2003 renamed as a small apartment complex with spacious rooms. The smiling Francisco Machado has been running the company since 2015, with a focus on ecotourism. There are solar panels, guests can eat vegetables from the garden and the breakfast starts heavenly with the extensive breakfast. Pamper yourself with homemade cake and fruit pie, traditional bread, fresh jam, juices and blueberries. Francisco runs his own fruit farm, with which he hopes to obtain an organic certificate in the near future. Most of them are emigrants who try to build a better life here, an image that is often visible in the region. More info:alpenduradas.com
Herdade da Figueirinha dos Condados (official name). For info: figueirinhaecoturismo.pt (see story)
Absorbe culture
Aprestos (Touro Azul) is a new organisation that uses local guides, such as Madalena Victorino, to illustrate the everyday life of the coastal region around Brejão. The project The Weeds of the Sea shows the simplicity of cultural life. It includes sixteen different cultural themes. The people here have been living from the sea and the land for centuries and use their roots to survive as well as to express themselves artistically. Madalena takes you to the pottery Oficina do Barro by Rita Moaris. She makes beautiful authentic products, inspired by Arabic motifs. This refers to the pirates who used to set foot here. She also visits the wood-cutter Escalera, who was born between the rocks. He makes beautiful cutlery from driftwood. The local fishermen also tell about their work. When the sea is calm enough, they go on the water, otherwise they work on land. After a pit stop of local wine, the guide also visits an elderly couple who proudly show their self-sufficient vegetable and herb garden.
Finally, there is a short presentation of work by local designers and clothing designers, who recycle fishing supplies and nets into trendy bags, baskets and coat racks. The guided route takes about two and a half hours, with Info via Rota Vincentina.
Do
Various activities such as canoeing and cycling with Ecotrails (Anke Ruschhaupt) ecotrails.info
Hiking
Rota Vincentina |rotavincentina.com|office: +351 283 327 669.
Food:
For delicious homemade salads, sandwiches, soup, bruchette and juices you have to go to the cozy little 18 e Piques. This lunchroom offers healthy food for little money and also sells local products.| Largo do Rossio No 18, Villa Nova de Milfontes| +351 963 665 768.
Hidden in the corner of a small square is Varanda da Aldeia. This new restaurant has delicious daily specials, small snacks, an extensive menu and cordial service. If the weather is nice, go especially to the roof terrace with beautiful views of the surroundings. | Adro da Igreja, St. Luis| +351 283 975 062.
This trip is made possible by Turismo do Alentjeo and Check-in PR.



Wine region par excellence
Unfortunately we didn't have time to visit wineries during this trip, but Alentejo is besides cork and unspoiled nature also known as a wine region. As much as fifty percent of Portuguese wine production comes from this region, which is divided into eight well-known wine regions: Portalegre, Borba, Redondo, Vidigueira, Reguengos, Mouros, Évora and Granja-Amareleja. It is mainly the red, fruity wines that are labelled here as DOC Alentejo. If you want to experience the harvesting of the grapes up close, it is best to plan a wine trip in early spring.
Special wineries
Near Monsaraz is Adega Ervideira, a winery that organises tastings on a beautiful roof terrace overlooking the vineyards. Their tips: the 'Invisible wine' (white wine made from red grapes), the 'water wine' (aged at the bottom of the largest reservoir in Europe) and the organic wine Ervideira. At Quinta do Quetzal – owned by a Dutch couple of art collectors – you can combine a glass of wine with a visit to the art gallery. And at Adega da Cartuxa, near Évora, grapes have been grown and wine produced since 1773. Here you can taste the most iconic and oldest Portuguese wines, Pêra-Manca Alentejo.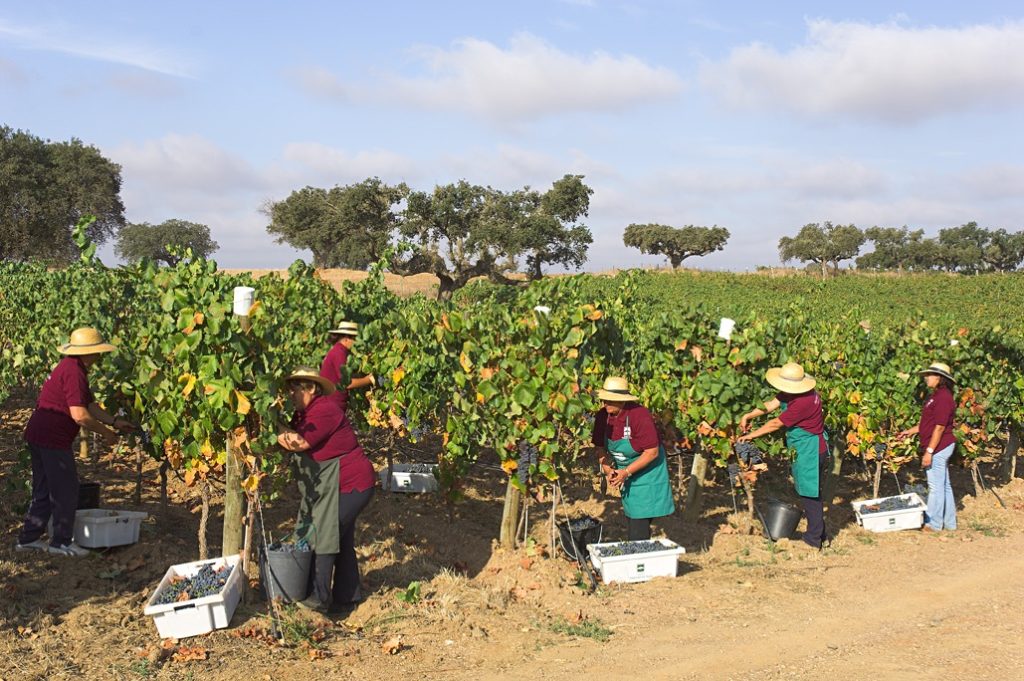 Alentejo Wines
For those who want to reminisce, or want to taste and discover the wines of Alentejo from the Netherlands, you can go to the connoisseurs of Alentejo Wijnen. This Dutch supplier specialises in wines from this region and, in addition to a wide range of good quality wines, also offers special wine tastings and activities.