If you go on a classic safari, you'll be in the car for hours. You never know what you will encounter. Game drives can increase the excitement considerably or it can turn out to be a disappointment. It's not a 'game' for nothing. We took up the challenge in Botswana, looking for big cats. Game on!
Text: Angelique van Os | Photography: Henk Bothof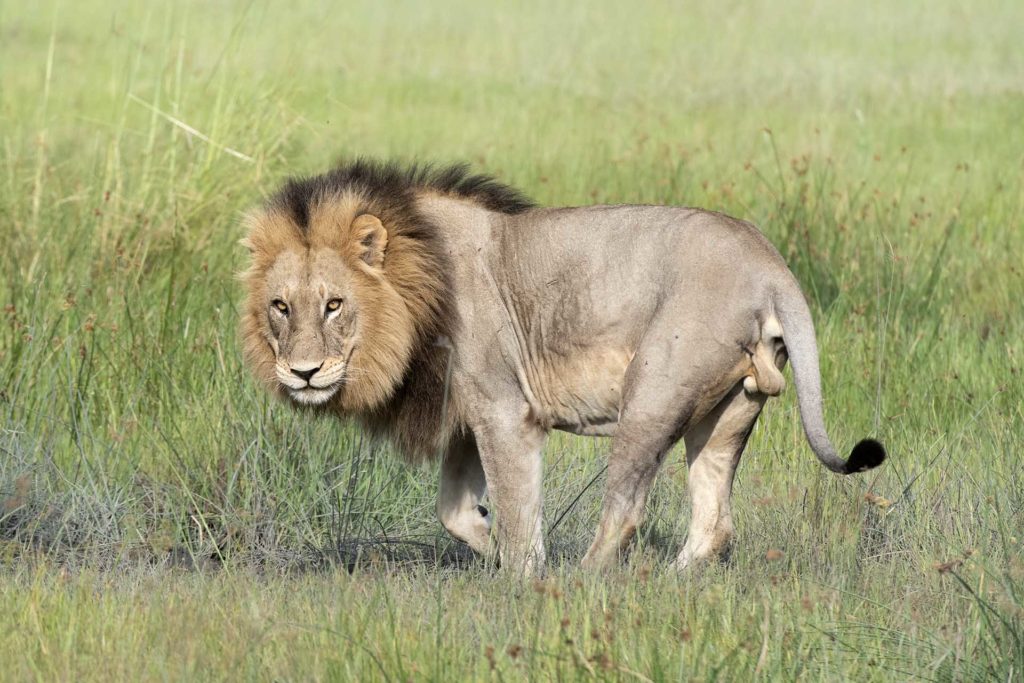 The sun is gradually setting. Thank God, because it's almost forty degrees. And that before the end of the rainy season, at the beginning of March. The grass is high, in many places a bit yellow. It hasn't rained much. It hasn't rained much. The grass is high, in many places a bit yellow. The ever-emerging marshy Linyanti river, the many small onion fields and water poles at the edge of the immense Chobe National Park, form the common thread in this colourful and extensive landscape. The Landcruiser follows the dusty, unpaved path. We are quiet, peering in the bush. Cameras ready to shoot, binoculars in hand. Looking for hidden game. "A good game drive is mainly about waiting, finding and recognizing tracks and good teamwork", whispers our guide Andy. "And luck is perhaps the most important factor", he adds with a smile.
It's quiet; the predators still seem to be asleep. There are no footprints or faeces to guide us in the right direction. We are looking for big cats: lions, leopards or cheetahs. Here and there a small group of impala's and zebras pass by. And then suddenly, about ten metres from the car, a large group of elephants looms up. Dozens at a time they walk past us. A number of females protect their calves and trumpeting is imminent. The sound vibrates through my body and the adrenaline rises. I've been on safari several times already, but never before have I seen such a large family so close by. These elephants don't get a lot of visitors every day. And it's a good thing that they are wary, because unfortunately the Botswana government has allowed the hunting of the tadpoles again since May 2019. This has to do with the enormous elephant population in the country and the complex human versus wildlife problems (read HERE more about that). Fortunately, the Linyanti Concession is a well-protected area, supervised by Wilder-ness Safaris and its Wilderness Wildlife Trust. Wilderness Safaris is a major tour operator within Southern Africa and only has its own concessions. The organisation has been in existence for over 35 years and presents excellent eco-safaris in the high segment.
Devious cat
Linyanti borders on the northwest side of Chobe National Park. The remote reserve vessel is a natural paradise of about 125,000 hectares. Driving around in the jeep, shows how rich this area is in a variety of small game. There is always movement. I get used to the many elephants, but they intrigue me time and time again with their idiosyncratic behavior. They splash and spray water with their trunks on top of each other, as if they shower together. The grey skins like to swim between a bed of white water lilies in the swamps and the Linyanti river, which shines in the rising heat. Gallant and agile impalas spread in small groups in the high reed while jumping. They also seek shelter and refreshment, unaware that there may be a crocodile lurking. Or a leopard, because this devious cat can sneak silently around shallow water. That leopard or another cat we have not spotted today. It is one of the most shy felines and lives solitary, so it's hard to find. Tomorrow we will make another attempt.
The next morning we leave at dusk. "A new day, new opportunities", says Andy cheerfully. He babbles something in the walkie-talkie and while we're having breakfast, he drives quietly towards the savannah. "In addition to our car, two other cars are active. We keep in touch when someone sees something, so we can reach the location quickly." Andy is looking forward to it. After half an hour of driving he stops and stares at the ground, looking for tracks. "Hmmmm…I see a lot of things, but no traces of cats." A quarter of an hour later there is a sound from the walkie-talkie. Andy talks quickly in a local language. He hangs up and returns the car. "The other group has found a leopard, it's near here."
I jump up from the couch from excitement. We are very lucky, because a two-year-old male has been spotted eating a prey in a tree. I only catch a glimpse of his beautiful coat and contours. Luckily the animal is not impressed by our 4×4 jeep and slowly starts to move after breakfast. The vehicles split, to give the leopard space. Moments later he is wandering through the high grass at ease and walks past our car in a squint. I hold my breath. Then the animal walks over a wooden bridge that the jeeps can cross. The cat screens the swamp for prey with his sharp vision. There is not much to see. On the other side he marks his territory by a tree and disappears into the forest. The two other jeeps drive away. We decide to turn the car around and park at a water spot at a walking pace. And yes, there is the leopard again. Despite his speed, the defeated cat sees his next bite a lizard shooting into the water. There is always boss above boss. He gives up and disappears into the bushes in search of cooling. What a privilege to be able to follow this animal in this unspoiled nature. And that at seven o'clock in the morning.
No Luck
We move on to the southeast of the Okavango Delta, to Qorokwe, a camp near the vast Moremi Game Reserve. From the air the area of roughly 15,000 km2, filled with canals, lagoons, swamps, reed collars and islets looks spectacular. Nowhere are asphalt roads, no electricity poles, no light pollution. Nothing but wilderness, in which earthly colors alternate. Nothing but wilderness, in which earthly colours alternate. I feel very insignificant in this great country, but also happy: that I can enjoy this geological miracle. The end of the afternoon is approaching. With our new guide Alan, we go looking for lions. Everywhere we meet elephants, giraffes, antelope, birds and monkeys. The lions are nowhere to be seen. In the meantime Alan tells us all about the landscape, about the trees that have a hard time because of the many elephants. They are eaten bald and pushed over. Then we arrive at a vast plain. In the distance there are buffaloes and impalas. An ideal place for a lion to go hunting. We wait a while. But nothing happens. Alan drives on. Because Wilderness has its own concessions, the guides are allowed to drive off road here. This increases the chance to find cats and rhino's. But no matter how many laps we drive, we don't find any lions. Alan also follows a rhino trail for a while, but without any luck. And the African Wild Dog hasn't been seen in the park for two weeks. The endangered dogs can travel up to sixty kilometers a day, so that's looking for a needle in a haystack. So no luck today.
Soes and sleep
The next game drive starts early again. Because it is already quite hot, Alan drives to a clearing that borders a large pond. Again we don't find a lion's-eye here, but we do find dozens of birds and elephants that cool off among the hippos. We can watch this peaceful scene for hours, but since the lions are not around here, we continue. While Alan drives on quietly, I hear him talking in the walkie-talkie. "Have the lions been spotted?" I ask hopefully. "And while I ask, the guide smiles and says: "Look right in front of you, under that bush." I start to shine glimpse away. There are two young lions puffing in the shade. They are brothers. Soon it turns out that the whole family (nine cats in total) is scattered under the bushes. A little further on two mothers and their one and a half year old sons are puffing in the grass. One of the lionesses looks like a sleeping beauty, with her head resting gracefully on her front leg. Cats sleep an average of 18 to 20 hours a day, so it is not surprising that there is little action.
At the end of the day we see more lions! This time it are two adult males that have beautiful dark and long manes. These boys are also lazy and suffer from the heat. Yet there is a lion that walks along our jeep. We can almost touch him. The male hardly seems to be aware of our presence; the only thing he sees and hears is the car and the clicking of the cameras.
Have the lions been spotted? I ask hopefully
Well hidden
It's time to leave Qorokwe and fly on to the crazy area of Vumbura Plains, north of the Okavango delta. The Vumbura concession covers an area of 60,000 hectares, and I find it even more varied than the previous parks. Swamps, small islands with palm trees, vast savannas, acacia forests and seasonal flood plains alternate. No wonder there is so much wildlife here. We have set our sights on finding cheetahs and looking for wild dogs. However, the dogs haven't been seen in the area for a couple of days now and have moved to the south. Lettie is our new friendly guide. Also here the guides of Wilderness work well together during game drives. With three cars they scan the area. During the first afternoon trip Lettie finds lions on the trail. Because the cheetahs are nowhere to be seen, we change our plan. That is also part of a good game drive. Lettie hangs every few minutes with his nose above the unpaved path. By the size of the legs he recognizes whether we follow a male or female. It is the Kubo group, says the guide. This is a group with only lionesses and their young. "I see here that they have crossed the road, probably to drink. We zigzag through the bush. It is difficult to search in the dense and high bushes. The car is approaching a clearing. Now it gets confusing. "Look at the prints. Do you see that all the tracks run through each other, as if they doubted where to go", says Lettie pondering. The lions are nowhere to be seen, so Lettie drives back to the road. Unfortunately. Just at that moment a message follows: the others have spotted the group a bit further on. The lionesses and their offspring are well hidden under the bushes. We wait a while, but there is little movement. Through the walkie-talkie a voice resounds again. Lettie answers excitedly and turns to us with a big smile: "By chance a cheetah female has been seen with a number of cubs! On the way Lettie tells us that his colleague in the other car wanted to drive to the buffalo that we had spotted earlier that morning. When they were close by, it turned out that the cheetah had a dubious hunting attitude. And rightly so, because you don't just attack a buffalo. She had probably set her sights on a calf, but it was too well protected by the herd. Meanwhile she has retreated into the bushes.
Ten minutes later Lettie drives off road through the bush. I keep finding it unimaginable how the man always manages to find his way without getting lost. In the distance we see the other jeep. Lettie looks surprised when we find the cheetah mother. "Wow! I know this female. She hadn't been spotted for a while. Apparently she has been busy, because we see her cub now for the first time. So for me also a boost. Her cubs are only a few months old." The mother keeps a close eye on us, but is otherwise relaxed. The cubs doesn't know the car yet. They look around a bit nervously and when their mother starts moving, they walk in a bit nervously and trot after it. Lettie reacts immediately each time the animals are in a higher gear. At an appropriate distance he turns the car around so we can see them clearly. We stay with the cheetahs for more than half an hour and say goodbye when the foursome falls asleep under a tree.
After this crazy morning a fairytale surprise awaits us: in the middle of nature Wilder-ness has set up a table where a delicious lunch buffet full of salads, soups, meat and fruit awaits us and the other guests. What a misery!
Close brothers
The end of our trip is approaching. The last game drive is approaching. And it will be memorable too. Again we encounter lions. This time there are four brothers. In consultation with Lettie we decide to take our time and stay with the lions. A male keeps an eye on things. The other three are lazily lying next to each other. They have their legs nicely crossed over each other. "These boys are very close. They hunt and eat together. They are three years old now. Only when they start mating do they retreat and possibly become dominant towards each other", says Lettie. Meanwhile, the sun begins to burn and the lions start to move. Together they search for a pool to drink water. Three of the four then plunge into the shady high grass. Maar een mannetje loopt verder door. He marks his territory spraying by a tree and calls with a kind of crying song to the females we saw earlier. "The lionesses won't let him come near them, because with the cubs there is a chance that he will kill them. Maybe that's why he sounds so pathetic, he probably already knows that it makes no sense", jokes Lettie. And while we're still watching the lions, I review what we have all seen. What a diversity of animals and landscapes we have seen! And in less than six days we have achieved a nice score with four lions, cheetahs and a leopard. Mission accomplished!