Uganda is the land of the primates. We take you to the rainforest, to volcanoes and to the impenetrable forest where dozens of species of monkeys live; from the chimps, Golden Monkeys to the famous and rare mountain gorillas.
Text: Angelique van Os | Photography: Henk Bothof
In Uganda live dozens of species of monkeys, of which the rare mountain gorilla is the best known. The chimpanzees in the Kibale rainforest form a nice starting point. The park has 13 species with the highest density of primates, such as the black and white colobus, baboons, red-tailed monkeys and the grey-cheeked mangabey. For spotting monkeys a bit of luck is of course needed, as well as dry weather. After a briefing on safety regulations and rules (no quick movements, no mimicking of sounds, keeping a distance of five meters and who has a cold is not allowed to come along), three small clubs of six leave with a ranger. Through a walky talky there is contact with each other. Silently, almost insidiously, branches and smooth winding tree roots are avoided. The ranger walks criss-cross through the rainforest. In the distance, after about twenty minutes, there is a sudden and loud screeching. The sound gives a frightening reaction, but this is not an aggressive behaviour: the monkeys invite each other to eat figs. The guide talks in the walky talky. "Follow me", she says whisperingly. The sound gets louder and almost automatically the noses go up, towards the meters high trees. They are far away, sheltered behind a green leafroof. Occasionally the branches move. Chimps spotting means patience, because nature cannot be regulated. Turning along a number of trees, a walking specimen suddenly appears, which quickly climbs into the tree. A little further on, two males are lazing around in a tree and nibbling on a branch. The walky talky scratches again, we continue. The other group has discovered a man-net that is almost posing on the ground. After a few minutes he has had enough of his 'paparazzi' that are only three meters away from him. The climax is still to come: after ten minutes of walking a group of four chimps is sitting on a fallen tree trunk There is a lot of tinkering, scratching and tinkering between them. A unique moment, because despite the fact that the great apes are used to visitors every day, they don't often make themselves so vulnerable.
Elegant pendulums
The small Golden Monkeys are less well known and easy to see up close. The golden monkeys (about 1100 in total) live only in the most sultry tip of Uganda, in the Mgahinga National Park. This park, surrounded by low forest, heathland and the Virunga Volcanoes, connects Congo, Rwanda and Uganda. It is better known for its gorilla trackings, which are especially loved in Rwanda. Although the vegetation is less spectacular than Rwenzori or Bwindi, the Muhuvura, Mgahinga and Sabinyo volcanoes certainly compensate the view with their mystical forms. If you are in good shape, you can climb them in one or two days and you will be surprised by the beautiful crater lakes on the top. The search for the golden monkeys is similar to a gorilla track: trackers go forward and try to trace the animals. Climbing is fairly smooth; after about two hours the animals are found in the bamboo zone, at the foot of Mgahinga. Gracefully the medium-sized monkeys dance from one branch to the other. Sometimes things go wrong when they swing over the metres-high bamboo plants and suddenly there is a hole. The thin leaves don't catch the monkeys, so they rage down with great speed. Their long tails and arms offer salvation, and hop, just as fast they sit in the next tree. Binoculars make it easier to follow the busy animals.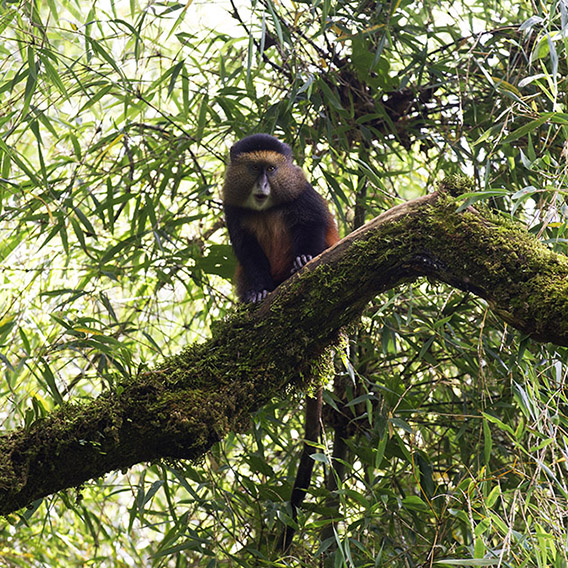 Lucrative business
The absolute highlight among the primates remain the giant mountain gorillas. At about two and a half hours' drive from Mgahinga, along the thousand lakes of the hilly and green Lake Bunyonyi, the impenetrable rainforest of Bwindi emerges from the low-hanging fog at an altitude of about 2000 metres. Of the 720 wild gorillas, 320, consisting of nine families, live in Bwindi. Ugandan newspaper The Daily Monitor reported in mid-September 2012 that Ugandan tourism agency director Cuthbert Baguma announced that tourism has doubled since then, from $440 million to $800 million. The gorilla tracking is 60% of this! A lucrative business for the Uganda Wildlife Authority (UWA) and the Ugandan government. Visitors will pay a minimum of $500 per person to stay with the friendly giants for an hour. Yet the money is worth it, not only because it is a lifetime experience, but also because it preserves the 25,000 year old forest. In the north of Bwindi there is a small research team that studies the social and eating behaviour of the animals. Finally, the UWA and its rangers supervise poachers and hunters. The problem, however, is that the penalties for wildcrimes are too lenient and too low, and corruption often plays a role. In 2010, for example, a gorilla was killed by poachers and the perpetrators were released after only paying a $40 fine. Absurd, of course. The government is working to change the laws and tighten the penalties. In addition, the involvement and knowledge transfer of the animals is important to the local population. About 5% of the park proceeds are spent on local projects such as new schools, water tanks and health care. Local communities are becoming more and more aware of the benefits of gorillas. According to ranger James Otekat, a big leap forward has been made; in recent years he has experienced no or hardly any violent incidents with his three gorilla families, Nshongi, Mishaya and Kahungye, who live in Rushaga, the southeast of Bwindi. It does mean that the families get more used to people through daily contact, but the UWA treats them with care and respect. Gorilla advocate Dian Fossey would be proud if she were still alive. Otekat: "It is a necessity to secure the future of endangered animals through tourism. Fortunately, there are plenty of people who are willing to pay for it. And it's so special, I experience different things every day."
Hello mr. silverback!
With a gorilla track the same rules apply as with a Chimptocht. Bwindi is only a denser forest, with metres-high trees, sometimes slippery surfaces, steep walls and narrow paths. The search varies from only half an hour to about eight hours. Our hike is quite tough and soon goes off-road. The rangers create their own way with large machetes, on the instructions of the trackers they talk to via the walky talky. Fresh tracks (manure, footsteps and flattened crops) indicate that we've just missed forest elephants. Regularly birdsong and sometimes a scream from the black and white colobus (fringe) monkey are heard, otherwise it's quiet. It's a long trip, where all attention is focused on the ground. Just not paying attention, can cause a slip. After more than three hours of walking, the struggle is rewarded: the Nshongi family has been found. Bags and food are left behind, cameras of course go along with it. Silently we follow the trackers one by one. In his dead field a silverback (leader of the group and older than 15 years) chews on a leaf, surrounded by dense vegetation of a tree. His offspring plays and eats a few more branches, with one of the females carrying a baby on her back. The monkeys are difficult to see, until they start moving after 15 minutes. A young male nonchalantly climbs up and curiously looks down on his visitors. The silver-back hardly moves for half an hour, until it suddenly turns completely towards its spectators. Each one holds his breath. Unbelievable, how close he is. His legs disappear almost completely under his unwieldy body. "This is unique, this is the first time I see a silverback that is so vulnerable in front of people", whispers James Otkat. When he runs out of twigs, he drops down nonchalantly and is caught by a bed of leaves. A little further he nestles in the flat crop. As if the gorillas know that the hour is up, they say goodbye shortly after and disappear into the impenetrable forest. It is true that a gorilla meeting is often experienced as the shortest hour in a human life; time flies and the experience makes a deep impression. Uganda has the same effect: this 'chameleon' is a pearl in all respects that already evokes homesickness when you come home.
to it
Flying:
SA Brussels Airlines (Brussels) and KLM (Schiphol). Flight time: 8 to 10 hours. Visa: for sale for $50 at Entebbe airport. Vaccinations: yellow fever, hepatitis A & B, DTP, Typhoid fever and malaria pills. Climate: pleasantly warm, 20-30 degrees. Rainfall: varies by area, between Oct-Feb. Best travel time: June-September. Public transport: not recommended, buses or taxis are often crowded and unsafe, no land to discover on your own. Currency: Ugandan shilling; in big cities the dollar is also usable.
More information: ugandawildlife.org | rwenzorimountaineeringservices.com and friendagorilla.org
This trip was made possible thanks to Rungu Tours, (rungutours.com). Further thanks to Swarovski Optik and Nikon Nederland (Roeland Koenen) for borrowing the Nikkor AF-S VR 200-400mm lens.
Read also: Uganda, back to the source part I: the Rwenzori'sand the tips about national parks.