If anyone knows how to capture the beauty of the earth in all its facets, then Frans Lanting (1951) does. The famous photographer has been sounding the alarm for years with his idiosyncratic multi-layered images. He is also an ambassador of WWF and presented his new book Into Africa. Early 2017 Angelique spoke with Frans Lanting about the essence and life force of nature.
Text: Angelique van Os | Photography: Frans Lanting
She stares at you curiously and penetratingly. Inquisitive, as if she were asking: who are you? What are you doing? Posing at the same time, with her graceful arm over one eye. The portrait of the bonobo woman brings her character to life and gives the image a mysterious charge. "I worked in Congo on a book about bonobos with primatologist Frans de Waal. I also spent a period with these monkeys in captivity, which allowed me to study and record all sorts of subtleties that are impossible in the jungle because of poor light and because the animals are high up in the trees. The series of intimate portraits contrast the natural behaviour in the jungle. Frans Lanting talks passionately about his work. It is only one of the countless pearls of the famous photographer.
For years he and his wife, Christine Eckstrom, have formed a strong team. They are always on the move. Cameras at the ready or close by, because you never know what you'll encounter along the way. For hours, sometimes for days, the couple is hiding, camouflaged in the bush, waiting for that one moment. Or they wear heat-resistant suits that protect against lava spewing volcanoes and defy the cold in the rugged Antarctic. Eckstrom often writes Lanting's book texts, takes care of the stories behind his photography and documents films of their adventures. The couple's home base is Santa Cruz, California, although they are constantly moving between the seven continents. How do they compensate all these flying hours with the vulnerability of the earth? Lanting: "That's difficult, but if we can't capture the subject on the spot, then it remains hidden. Our world has become too small, while the problems are too big not to share. If we can't commit people to what is happening, then everything is a thing of the past. We think the cost is worth it."
Windows
In 2016 the photographer was back on familiar ground, in Rotterdam, where he grew up. He opened his first retrospective of 40 years of work: Dialogues with Nature. The successful exhibition focused on six themes, in which continuous conversations with nature, people and animals in all their facets formed the leitmotif. And perhaps surprisingly, because the passion for photography began with an impression of the four seasons in the Rotterdam Kralingen forest, influenced by an interest in Japanese Haiku (nature) poets. In the mid-1970s, Lanting exchanged his studies in environmental economics at the Erasmus University for his life as a nature photographer.
The fact that his work quickly caught the eye and caused a worldwide stir in various media is not only due to his eye-catching and personal images. His signature is often twofold, because of a deeper message. Respect for the Earth always comes first. "The essence of nature is a life force. It keeps people alive and nature is a process of constant change. The beauty is important as an aesthetic outer layer, but I want to tell my story. For me, nature forms a totality that surrounds people and life. For example, my vision on this has been elaborated in the project Life, a journey through time (2006)", says Lanting. In this project, life forms from the Big Bang to the present are depicted in a very colorful way. According to his own words, the photographer sees himself as a visual artist because he applies the same principles. "I work with lines, shapes, patterns, colours, harmony, contrast and so on. I try to make photos that can function as windows that take the viewer into a world that they may not know exists and is relevant at all. I'm navigating between the world of visual arts and communication."
Important field of work
Lanting is an ambassador for the World Wildlife Fund, and together with the foundation, for example, he focuses on identifying problems and devising solutions for the increasing climate changes in the High North. Africa is also an important field of activity, in which the issue of the living space of large game is central. Because, Lanting rightly wonders, is there still enough space left for elephants, rhinos and lions, for example? And how will the balance between humans and animals be maintained, when the population settles more and more closely around the National Parks?
In a way, the latter topic is also in line with a project on biodiversity that he presented at the beginning of the 21st century. He wondered what to do with the living planet and all its developments and problems, influenced by the presence of man. Think of the extinction as well as the discovering of new animal species, and living together in a world dominated by human activities."
Critical timeframe
The exhibition in Photomuseum Rotterdam is now well behind us, and his new book, Into Africa, in which he captured the wonders of this continent with his lens, appeared in mid-October. However, the dialogues continue. Lanting is a positive person, but emphasizes that his goals are constantly changing due to rapid technological developments and global problems, such as climate change, nature conservation and the threat and extinction of animal and plant species. The rising population growth and the increasing consumption of electricity, energy and raw materials, for example, are enormous issues that need to be given more attention internationally. "This consumption cannot continue indefinitely. Our living planet is finite. We need to take more action, because we are in a critical timeframe. In the next ten or twenty years, an awful lot will have to be done to turn these problems into a trend that can produce a more sustainable society. In order to be able to make a personal contribution in addition to my photography, I work together with organisations that make such subjects discussable and offer solutions for them, both on a global level and on a local level."
Technical innovation
The technique of photography and communication is also developing rapidly. Working in the darkroom used to be a kind of hermit's life; photographers spent hours there alone. At the same time, it sometimes took months before a publication followed. Now it's a push of a button and the image has been edited and all, on social media such as Instagram. Especially with Frans Lanting: "Within 48 hours I receive almost a million responses to a post. I use my smartphone a lot; it's a lot more spontaneous. But cameras are tools; originality and concept and you have to think of it yourself." He himself uses photography as a visual language: every single photo is a thought. Threaded together, it produces sentences and as a series it forms a story. "I am now working on a series of panoramas made with my phone. It is a digital impression of cityscapes that focus on the need for energy and mobility. I contrast this with the last isolated areas where nature itself still finds its way, but where, in spite of that, human influence is present."
According to Lanting, there are few comparable professions that are as fundamentally influenced by innovation as that of a photographer. The downside is that the profession is under pressure, because everyone has a camera within reach. A fact that cannot be stopped, but which photographers have to deal with even more creatively," says Lanting, "I photograph both rationally, from my experience and conceptual point of view, and infinitively. These two elements together can ensure that beautiful things happen. However, you don't always have control over the creation of a photo, because nature doesn't allow itself to be regulated. Sometimes you also need a bit of luck."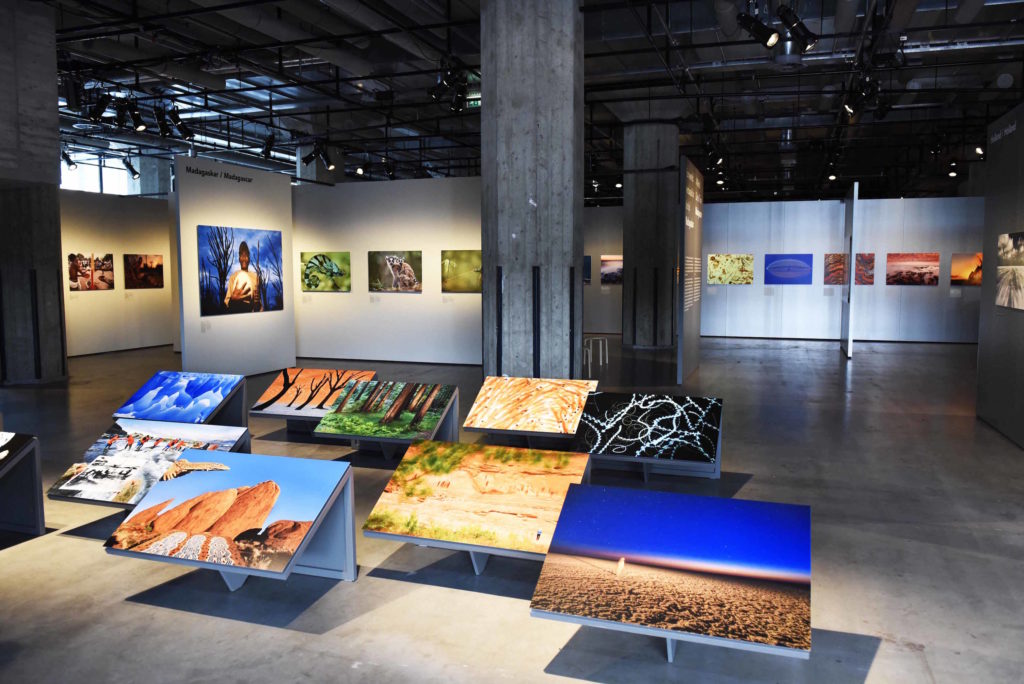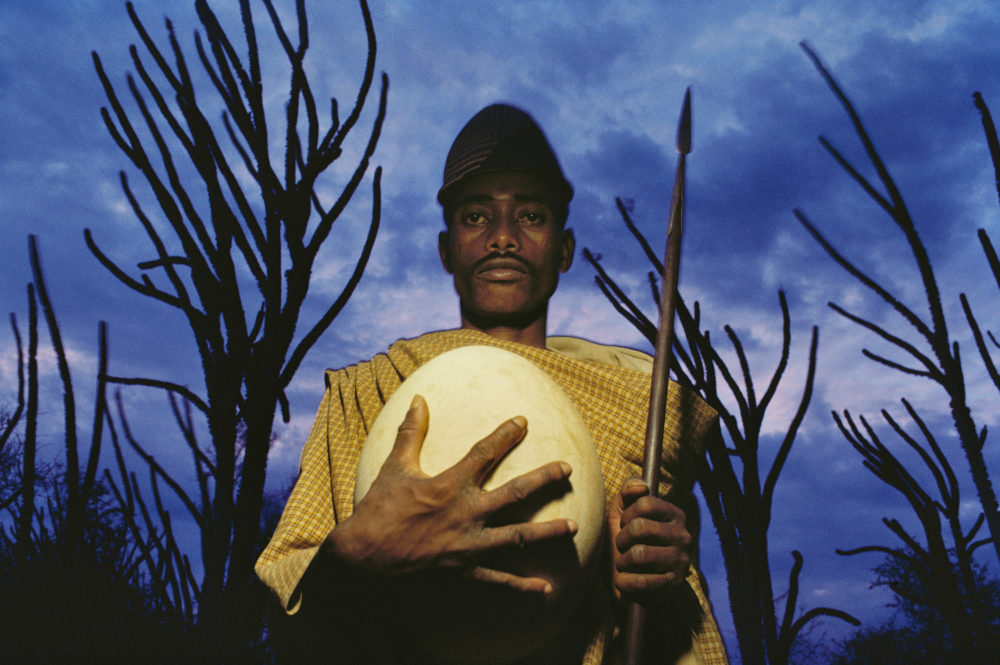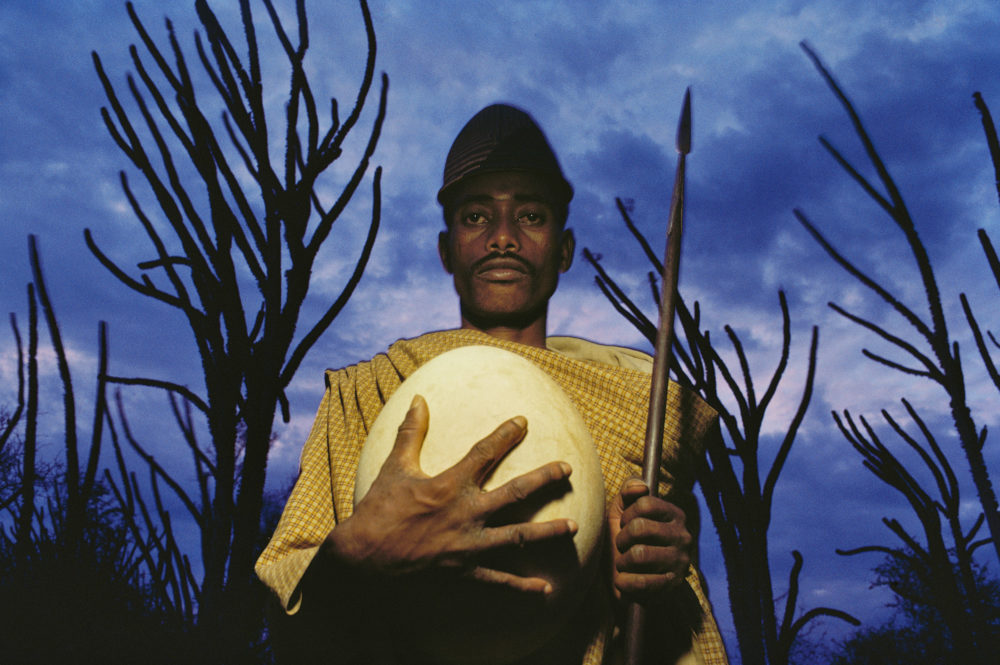 Global discussion
The stratification of Lanting's work, for example, is clearly visible in the groundbreaking pioneering work in Madagascar in the mid-1980s, which was again published in National Geographic Magazine. Take the penetrating portrait of an African with a huge egg. The image is almost hypnotic because of the powerful lighting and dark sky, surrounded by surrealistic trees in the background. "This man is holding an egg from a dead Elephant bird that was only found in Madagascar. Behind him you see characteristic trees, which at the time were already disappearing due to environmental problems", explains Lanting. Another example from the same series is a brown hilly landscape. At first glance it looks beautiful, but appearances are deceiving: "This is a poignant image, because not long before my arrival these hills were still full of trees. Everything has been cut down. When we first published this series in NG, these were exactly the images that were needed to start a worldwide discussion about the environmental problems on the island." The dialogue with nature changed, because Lanting's personal insight shifted to an international audience of around 20 million readers at the time.
Life lesson
The dialogues are a life lesson of working in and with nature. Lanting finds it important to pass on these lessons and experiences to people and young(er) generations who see his work and find it interesting. A signature that has now been adopted by younger generation photographers is his famous work Oog in Oog (Eye to Eye). From the 1990s he brought the personal characters of animals to life by exposing them with intense close-ups. "It is very exciting to see animals up close physically. I enter another world, where different rules of conduct apply. I have to abide by that and because I have been doing this respectfully for so long, it goes well for me in a natural, intuitive way."
The book Into Africa depicts the wonders of Africa's wilderness, captured through the eyes of Lanting, whose photographs provide a sustainable representation of the continent's ancient heritage and what is at stake in the twenty-first century. Lanting's work shows the most celebrated landscapes of the world, from the breathtaking view of the plains of the Serengeti, the water wilderness of the Okavango Delta in Botswana, to the enchanting deserts of Namibia, the bewildering jungle of Congo and the wondrous island of Madagascar.

The Dutch edition of Into Africa is available from National Geographic and Fontaine Publishers. Furthermore, the English-language, limited Collectors Edition is available with 106 full-color photos and a total of 224 pages. There are only 250 signed copies printed. Price: $350 USD + shipping. Click here for more info and to order the book.
With his own WWF-Frans Lanting Photo Award he also tries to inspire amateur photographers and nature lovers by means of storytelling. Lanting: "The competition is yet another way to enter into a dialogue, also with me. People who send in interesting photos, I get to see them and my answer is guaranteed." This goes further than just the selected photos, because Lanting also goes out and about with the winners, he has given a workshop at the Oostvaarderplassen in previous editions.
In winter, the Eckstrom/Lanting couple regularly go on expeditions to the far north. Like at the beginning of this year, when they were in Antarctica with an exclusive travel group of biologists, conservationists and those interested capturing the ice up close, like explorer Ernest Shackleton and expedition photographer Frank Hurley did at the beginning of the 20th century. With an analogue camera of almost one hundred years old, that is! "Yes, it's back to basics", the photographer chuckles before his trip. "That's very exciting photography, with rough weather conditions, without being able to see the result. But I can't wait to take on that challenge and get the most out of myself and my camera."