Vultures are not the most beautiful or friendliest birds. They have a somewhat negative image as scavengers. However, vultures are extremely important for ecosystems. The birds are threatened worldwide and that is why Dhan Bahadur (DB) Chaudhary, manager of Tiger Tops Tharu Lodge in Chitwan, decided to open a special 'restaurant' for the vultures so they can 'dine' safely.
Text: Angelique van Os | Photography: Henk Bothof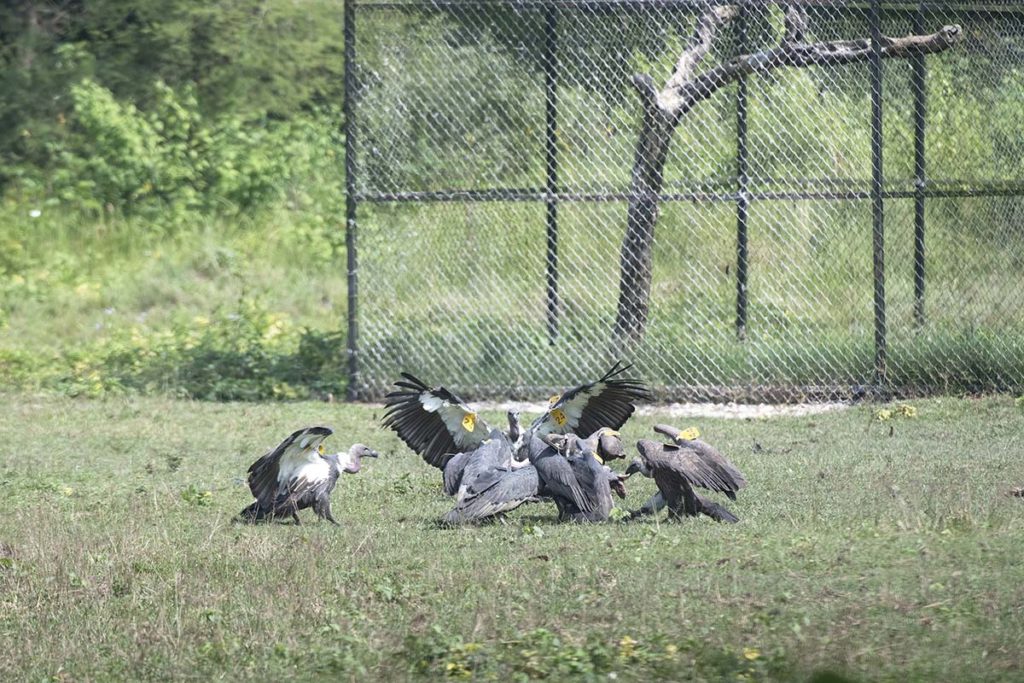 A vulture is not a charming bird, but it cleans up all the leftovers. It is the cleaning crew of nature. Indeed, vultures play a crucial role in getting rid of bacteria and diseases through the carcasses they consume. They prevent diseases for humans and animals, such as anthrax, rabies, tuberculosis, and botulism. Their absence changes the ecosystem. It is a global problem and many species of vulture are now threatened with extinction. For example, in 2006 there were only 72 vultures in and around the Nepalese Chitwan National Park. Dhan Bahadur (DB) Chaudhary is the manager of Tiger Tops Tharu Lodge, which strives for nature conservation as well as eco-tourism. DB takes care of various projects together with colleagues and the local population. The great decline of the vultures caused the manager a lot of worries and that's why he came up with the Jatayu vultures restaurant. DB: "In several African countries, vultures are often poisoned by poachers because they betray where an elephant, rhino or lion has been shot. It is a big problem. Fortunately, you see this less in Nepal. Most vultures in our country are poisoned by eating cattle that are given diclofenac by local farmers, another common cause of death. It would matter if farmers wouldn't use pesticides. We try to inform the locals that there is another way. To protect the birds even better I invented the first slurry feeding center in Nepal. It provides care for healthy old cattle and when the animals die it is a safe food for the vultures. Because of the interest of birdwatchers, it also provides work. There are now seven vulture restaurants in Nepal and we have rescued 217 birds, 67 of which were born here".
Arriving at the 'vultures field', we see a large aviary where ten vultures eagerly await their food. We hide from a viewpoint. After a few minutes, someone drops a large piece of meat on the grass by motorbike. It takes a long time before the timid birds reach the food. They hop from branch to branch, high up in the trees. Waiting for what's to come. But nothing happens. Eventually, after more than half an hour, they dive in large numbers on the meat. DB looks at the scene with satisfaction and says: "This kind of project makes me a happy person. It is my dream to create modern, sustainable conservation for people and animals. I'm always taking that one step further."
More information about Jatayu can be found here. Also in Africa, there are several projects with vultures. The Wilderness Wildlife Trust, for example, is researching the declining population and the protection of vultures in Botswana. And the Vultures Conservation Foundation is also broadly committed to the protection of vultures in European and Egyptian species.
Also read our story how we came face to face with a tiger in Nepal. Also nice: royal cities and the birthplace of Buddha.