New Zealand, the land of unspoilt and rugged nature. Angelique spent more than five weeks with her family on the South Island and likes to share some tips and photo impressions of the less visited and irresistible nature faces, from rainforests, rolling hills and Alps to vast beaches.
Text & photography: Angelique van Os
Tip 1: Banks Peninsula, Akaroa
After a long trip of one and a half days flying, you can relax on the peninsula Banks Peninsula, (about an hour and a half from Christchurch). This volcanic landscape lies on the east coast of the South Island. The picturesque, traditionally French town ofAkaroais well worth a visit and is known for its dynamic marine life. It is not as exuberant as the popular Kaikoura where whales are best spotted, but here too you can take boat trips in search of dolphins, penguins and seals. I go out with the small-scale Akaroa Dolphins, which do not allow more than 35 people per trip. They deliberately choose not to swim with dolphins, but to watch them from a distance. They leave the animals alone. But they do get help locating the dolphins. The cheerful tracker dog Buster knows exactly when the mammals are in the area. As soon as he notices their presence, he starts tripping restlessly on deck and asks for the captain's attention barking. And yes, a little later dots appear above the water and we spot several dolphins. Thank you to Buster! On a similar trip you will also see many birds and seals. A wonderful afternoon activity.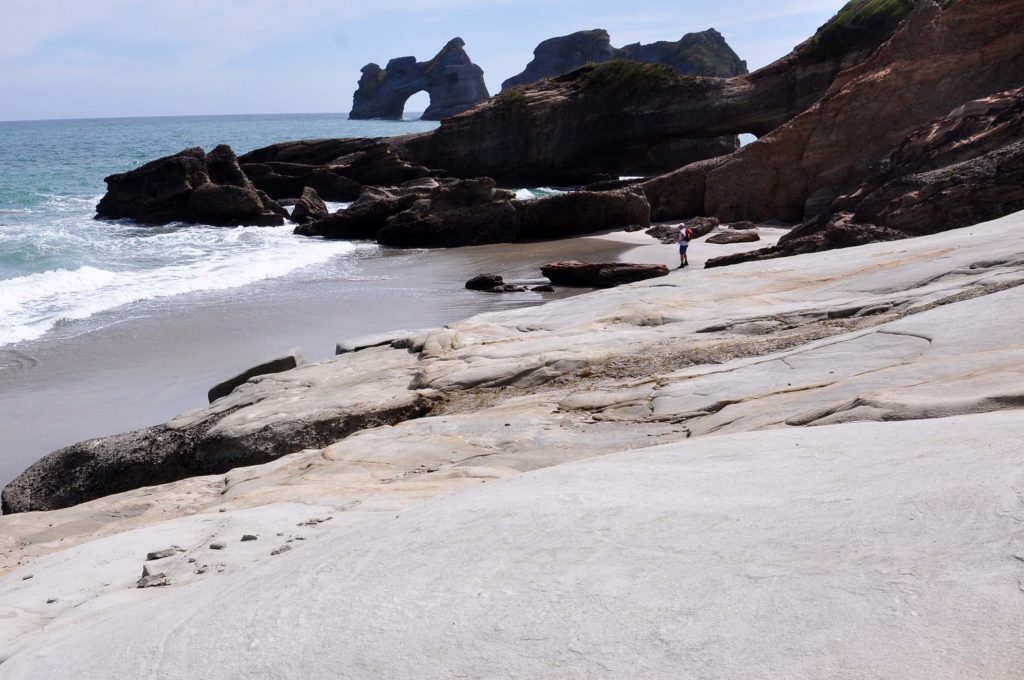 In this hilly volcanic area full of bays you can also make beautiful day walks. This can of course be around the popular harbor where in summer (December-February) can be quite busy, but just outside the town in the hills of Purple Peak and the Hinewai reserve is a lot quieter and the view is sublime.
Tip 2: Golden Bay, Wharariki Beach
If you visit the South Island, you will not be able to avoid one of the great highlights: Abel Tasman.This is New Zealand's most visited national park, thanks mainly to its pearly white beaches, idyllic bays and wooded hills, which turn into rainforest in the north and border on one of the largest parks on the South Island, Kahurangi. I deliberately choose not to kayak and walk between Marahau and Totaranui, which at this time of year is a coming and going of water taxis, but I stay a lot further north in Pohara, a small village in the Golden Bay. There are no water taxis here, so it is less crowded and you can also explore the water with your kayak.
You can also enjoy the small-scale campsite, The Secret Spot, situated in the hills just outside the village. This initiative runs Andrew with his wife Kim Lemeson, who, besides his passion for the 'wild camping feeling', shares a lot of information about his work as a DOC-administrator (Department of Conservation) of the northern area. Not only does he coordinate nature conservation, he is also responsible for marine life, with a record number of whales (650!) washed ashore in 2016 and more than 400 have been saved with all their might. It was world news.
Andrew knows the area like the back of his hand and advises us to take the car and in just over an hour we drive to the remote Cape Farewell and Wharariki Beach, the northernmost point of the coastline. We go for the latter, because a stay in New Zealand means making constant choices. You can't do everything. We don't choose the short, direct route to the beach, but make a detour along and through the meadows where several herds of sheep graze. After about half an hour the path ends up in the meadow that borders on a surprising oasis of exotic palm trees and a picturesque lake where birds breed and frolic. A bit further on is a fence with behind it a winding forest path that leads to a breathtaking beach, which we have all to ourselves for a long time. However, we do have the company of a seal that steals the show at an appropriate distance by rolling in the sand. Unfortunately we can't walk to the other side of the beach because of the rising tide, but that has something magical, because this is a true paradise. This is the place Microsoft used for a long time as a screensaver, and I now know why.
Tip 3: Honeycomb Hill Caves, Operara Basin – Karamea
A place that is being discovered more and more by the Kiwis themselves is Karamea. International hikers visit the area regularly because of the nearby Heapy Track, but many people do not go there because of its isolated location. Karamea is the most northerly on the West Coast, near beautiful beaches and surrounded by the dense rainforest of Kahurangi National Park. Just fifteen minutes outside the village, after a half hour drive deep into the forest the Operara Basin with its caves and huge rocky arches hidden. You can make several walks here on your own and take at least one or two days for that. The narrow unpaved road to it is not suitable for campers and buses because of the many dangerous bends and steep climbs. Many car insurance companies do not cover the costs when something happens here.
Another possibility in the same area is a visit to the protected area around the Honeycomb Hill Caves. Honeycomb Hill Caves. This is a cave system of 200,000 years old where the largest national size of (extinct) bird bones and fossils have been found, such as the Moa and the giant eagle. Due to the fragility of the underground environment, you can only go here in small groups of up to eight people, accompanied by a certified guide (to be booked through the local information centre). These ancient caves contain a system of corridors of about fourteen kilometres. To get there we first walk for about half an hour through the fairytale-like primeval forest, where J.R.R. Tolkien found inspiration for his famous Lords of the Rings Trilogy and where afterwards a number of arches and caves are named after characters and locations from his book. As also visible in the largest national park of the South Island, Fiordland, you will find here mainly impressive ferns and metre-high trees from 800 to 1000 years old that are completely covered in moss and from which all kinds of new life is created. Apart from the birdsong of the curious bush robin and fantails and the soft chattering water, it's very quiet here and there's not a breath of wind. In front of the Honeycomb caves, which were only discovered in 1948 by local hunters, we descend a few meters underground, where a completely different world reveals itself. It's a humid, dark environment consisting of brittle dripping layers of formed limestone, stalactites hanging down, the so-called elephant feet (thick stalactites) and rising stalagmites and through which narrow side branches of the Operara river flow. Many thousands of bones and bird fossils have been found in the cave's basin. The theory of various geologists and researchers is that birds that centuries ago increasingly lost their ability to fly because they had little or no natural enemies and therefore increasingly transformed into ratites. The point was that many curious ratites looking for food, often got stuck in the cave because they didn't use their wings anymore and couldn't get out. When we turn off our headlights to see the magical light of glowworms it becomes clear how suffocatingly dark it is here. What a panic it must have been for the animals who were stuck here and died quietly. Luckily we can easily find our way thanks to the pocket lamps and the green forest meets us beautifully when we climb up through a large opening.
This was just an informative foretaste, read HERE the report about the Honeycomb Hills. Voor info & boekingen: Karamea Information & Resource Centre | Market Cross, Karamea| info@karameainfo.co.nz| karameainfo.co.nz | 0064 (03) 7826 652|

Tip 4: Otago Rail Trail – 152 kilometres by bike
If you want to discover the heart of the southern region of Otago and take the time to do so, you'll find what you're looking for by jumping on your bike and passing dozens of picturesque (former gold mine) hamlets and villages where the train from Dunedin to Clyde used to run until 1990. The trail, which officially covers a distance of 152 kilometres, runs from the towns of Clyde to Middelmarch, as the last stretch to Dunedin is still in use. For almost seventy years the railway has been active and very important for trading and the connection of rural life to the larger towns. Since 2000 the railway has been transformed into mainly gravel paths and crosses beautifully varied landscapes along vast plains, rolling green-yellow hills, rugged valleys and you cycle over meters-high bridges and through dark tunnels.
It is sometimes a bit of a hassle, because those who cycle in the summer months (January-February) may have to deal with high temperatures, strong winds and or heavy rain showers. Autumn (April-May) often offers more relief in terms of weather conditions, because Otago is known for its hot summers.
If you want some more adventure – and we as a cycling people are used to a bit of nature – then start with the River track from Clyde. Here you cross with your mountain bike at high speed over bumpy, narrow forest paths full of (sharp) bends until the first stop, Alexandra. And it's about ten kilometres to cycle.
The strength of the trail is not only the beautiful view, the locals have embraced the tour and that is why you will encounter several country restaurants, cafes and various accommodations along the way, but above all friendly people who like to have a chat and tell stories about their lives and how things used to be.

Practical
You can do the tour in a maximum of five days, taking your luggage from start to finish. There are several providers. I cycled the route in three days with ShebikesHebikes. They offer a very good service and excellent bikes and ditto bags for on the road. Despite the fact that the trail has been in existence for a while and is regularly ridden, it hasn't (yet) reached the masses. It is mainly Kiwi's and Aussies who ride the trail, partly with their families.
For more info look here.
Tip 5: Waiatoto River Safari
New Zealand is the country of the outdoor action. On the west coast, in the remote village of Haast, the Wayne and Ruth Allanson couple run small-scale water safaris with jet boats In three hours you'll discover the dramatic and varied alpine landscape of Hurry, which has been declared a UNESCO heritage site. You'll tear and float through the secluded waters and take a short walk in the quiet, untouched rainforest. The new advanced boats have low Co-2 emissions, which means that they cause little pollution. By the way, Wayne and Ruth are the only people in the area who have a permit to sail in this area. They take you from the interior to the sea and tell you passionately about the area. Wayne is also one of the patrons of this area, so as a nature lover you are in good hands.
More information:riversafaris.co.nz| +64 3 7500 780
Also read a tip list of delicious coffee addresses where you can go for the New Zealand Flat-White.