Eight summers he went out with them. Over vast steppes and tundra's, over rugged mountain scenery and through dense forests of Mongolia. Photographer, filmmaker and scientist Hamid Sardar (1966), shows with his camera the pure lifestyle, ancient traditions and rituals of the last Mongolian hunters and shamans. The result is his debut Dark Heavens (teNeues), a coffee table book filled with symbolism, spirituality and the strong bond between man, animal and nature.
Text: Angelique van Os | Photography: Hamid Sardar
He's in the middle of completing his new film about Tibet. Behind him hangs a picture of a hunter with an eagle, which is also in his book Dark Heavens. Hamid Sardar lives and works mainly in Paris, where he produces modestly award-winning documentary films such as The Reindeer People (2012), No Strangers (2013) and Taïga (2015). The originally Iranian, however, prefers to stay in Central Asia. He has a great passion for Tibet and Mongolia, the latter being the country with which he has been inextricably linked since 2000. When he starts to tell, a waterfall of words follows and it soon becomes clear that Sardar's world and vision consists of many intriguing layers.
"As an 11-year-old boy, I had to leave my homeland due to political and religious tensions, but I remember the paradisiacal rainforests and their animals. We lived on the northwest border, where Mongolian and Turkish horse farmers regularly traded. As a child, I was already fascinated by these people. Because I had to leave my home at such a young age, those nostalgic childhood memories have always been alive.
In addition, as a child, I had an early interest in Buddhism and the ancient healing powers of shamans, which are diametrically opposed to the violence that I saw around me in Iran. I studied Oriental cultures and languages at Harvard University, and left for Nepal and Tibet for research. After a number of years I took a minor at the Harvard Film Study Center and so my passion for film and photography arose, partly because words sometimes fall short. My first photos were published in National Geographic, because I was part of an expedition to the then undiscovered Tibetan Tsangpo river."
Spiritual protectors
"The reindeer has a spiritual and protective meaning for the nomads, they guide them to the next life, another world. The same goes for the horse, the black dog and the eagle. That is why they feel a strong bond with these animals. The photo of the child sleeping in front of the white reindeer strongly refers to this. For years I tried to depict that close bond, until one day I observed children playing and there was a toddler who played with a reindeer and then fell asleep with it.
The Kazakh hunters have a strong love affair with the eaglewomen. This too is a heavenly, protective animal that chases away darkness. The bird of prey is caught as a youngster and lives with the families to support the hunt. After five years they get their freedom back, so they can breed. The hunters know where they build their nests and then take the best young females with them to train. By the way, not everything has a symbolic meaning, these people are very close to nature.
On the cover and in the book, for example, there are a number of photos of a girl with a young deer. During a migration they had found and adopted the animal. A goat gave it milk, so it survived, until one day she returned to the forest on her own."
"Here I became aware of the dividing line between civilization and wilderness and its freedoms"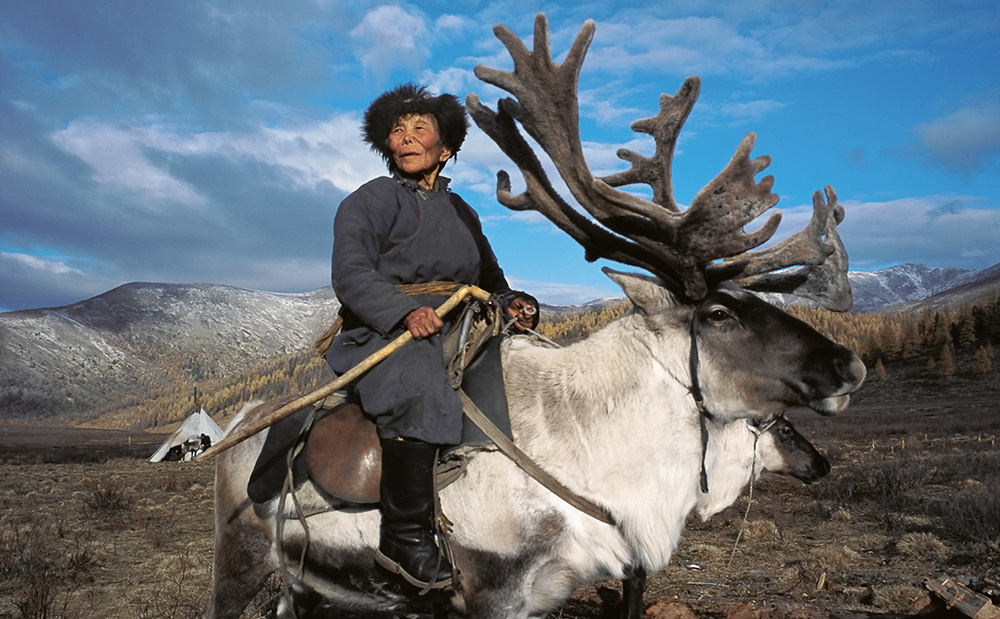 Lost Paradise
Lost Paradise "My best photos are created when I am vulnerable and open, which gives more confidence to the other. They are not aware of my presence, which makes the camera invisible. Then magical moments arise by themselves. Because families got to know me, I became more and more part of their community. Not the other way around. Elements like freedom of religion and speech began to fade for me, because they are negligible when you live in the wilderness. Here I became aware of the dividing line between civilization and wilderness and its freedoms. When I realized that, I existed visibly in the eyes of my companions."
"For me, the book is a reflection of what we have lost over the centuries: the close, spiritual bond that man once had with nature and animals. It is clear to me that man has created that distance on a global scale over the centuries himself, has distanced himself from respect for nature. Our children, including my own, are increasingly becoming part of a digital, virtual world. And development is inescapable. That's not bad either. The younger generation of nomads also go to school, go more to the cities in search of employment and a warm roof over their heads. We have a romantic image of their lifestyle. In winter the strongest family members move on, while the children and some women live close to small villages. Life in the cold tundra and mountain areas is hard. We must not prevent this from happening. With my photographs of these communities and their relationship with wildlife, I try to present them in an iconic style, remembering the lost paradise on earth. When humans and animals spoke the same language and man was dependent on nature. Fortunately, there are plenty of ways to allow the wilderness back into our lives. It is the interaction between man and post-hour that has completely changed. This is particularly noticeable in Western communities, where loneliness, separation and social hardening are visible on a daily basis. This book is an attempt to preserve a small piece of wilderness and ancient cultures, in which contact and involvement with the indigenous population is of essential value. And yes, of course there is a fear that the old wisdom, language and culture will disappear more and more in the future, but as long as there are reindeer, the hunters and shamans will continue to wander around."