In addition to overwhelming nature, New Zealand has had a true coffee culture for a number of decades. And my favourite coffee, the flat-white, comes from Down Under. So it's time to try them out and share ten of our favourite addresses.
Text & photos: Angelique van Os

There is some discussion and uncertainty as to whether the Aussies or the Kiwis have invented the flat-white and what the difference is between the two, but one thing is certain: those staying in New Zealand can order a flat-white anywhere, unlike in Europe. A few years ago, for example, in the Berlin Metropolis, both the waiter and my friends looked at me crazy when I wanted to order such a cup of coffee. Many people have never heard of a flat-white, despite the fact that you can easily get it from the larger coffee chains. I drink my daily dose at my regular coffee shop, Doppio Assen. Now let's see what that tastes like on the south island.
It soon becomes clear that the often constant quality of Italian speciality coffees, certainly does not apply to New Zealand. Sometimes the coffee is watery, there is not enough foam, the ratio is not right or it has too little taste. A big plus point is that you almost always have a beautiful view in the neighbourhood with a nice cup of coffee, and most of the coffee is organic. The New Zealanders attach great importance to organic and healthy cultivation. In addition to the quality of the coffee, we have mainly selected addresses that have a nice location, offer good food and a pleasant atmosphere. By the way, I leave the larger cities out of consideration, because I didn't visit them.
Many coffees are designed for young children with play corners, so that mothers can enjoy their offspring at ease. The little ones even have their own 'fluffy', i.e. whipped milk froth with cocoa powder and a marshmallow; my son's personal favourite.
What is a flat-white anyway?
This coffee variant consists of a third espresso (usually two shots), two-thirds steamed milk with a hint of swirled foam. For more information about the background of the flat-white, look here.
---
1: Sweet As Bakery, Akaroa
My personal favourite is to be found on the Banks Pen-insula peninsula, in the former French harbour town of Akaroa. Coincidence or not, this coffee-top and cake is run by an Italian barista. The coffee of Burton's Pure Espresso is full of flavour, has a fine layer of foam and is perfectly balanced. Also organic. There is also fresh bread available, as well as lunch, ice cream and various juices. Sweet As Bakery |74B Rue Lavaud, Akaroa.
2: The Store, Tai Tapu
You'll pass it in no time at all, because the outside doesn't betray the cosiness of this fine coffee bar with its sheltered garden terrace. The Store is on the main road between Banks Peninsula and Christchurch, opposite a funny vintage clothing store. Besides good quality fairtrade coffee and flat-whites from Underground Coffee Roasters, you can stand here in front of the crowded display case filled with homemade and freshly made savoury cakes, quiches and sweets. Both inside and outside you can sit here with your whole family and there is also a nice gift shop. The Store|687 Christchurch Akaroa Road, Tai Tapu.
3: Totos Café & Gallery, Abel Tasman
You have to do something to get a flat-white here, but the view over Wainui Bay is sublime. Totos Café & gallery is located about three kilometers from the Wainui Falls, with which you can combine a nice walk, because these waterfalls are definitely worthwhile and not crowded. This area is located on the 'quiet' side of Abel Tasman. The reason that there is a pizzeria and café on a mountain in the middle of nowhere, has to do with cheap land and on the other side of the mountain, about ten kilometres away, there is a DOC (Department of Conservation) campsite that is regularly full. In the café you can see small changing exhibitions, and the staff is partly of French origin. A unique combination. The quality of both the stone oven prepared pizzas and the flat-white of organic coffee is excellent and the beautiful surroundings complete the picture. By the way, you can also eat gluten-free and vegetarian here. Totos Cafe & Gallery| 400 Totaranui Road| totoscafegallery@gmail.com| +64 (0)21 187 1849
4: Wholemeal Café, Takaka
In the north of Golden Bay (Abel Tasman NP/Nelson) lies the beloved central town of Takaka. It is one of the many small communities of this region that exudes a hippie atmosphere. There are several gift shops, a cinema and many restaurants. A nice place to refuel is Wholemeal Café, which was founded in 1977. Although the theatre, which has been completely rebuilt and has a rich history, dates back to 1910. You can have lunch here and there are regular concerts of great acts to see. The flat-white is also excellent and the medium roast coffee has its own story. The owners/managers Wayne and Aydee Green, visited the former Portuguese East Timor in 1975. This is how they discovered the local coffee and its community. From 2012, they will be releasing their own Wholemeal Trading Company Café Timor Leste–coffee, a fair trade and organic coffee, which makes a small contribution to the local community. The coffee can also be purchased per pack in the café. |The Wholemeal Café| 60 Commercial Street, Takaka| Phone: +64 3 525 9426|
5: Mad Café, Collingwood
In the north of Golden Bay (Abel Tasman NP) lies the small village of Colling-wood. It is one of the many small communities that breathes a hippie atmosphere (see also tip 4). This certainly applies to the distinct Mad Café, where you can enjoy a hearty flat-white in the morning, where the coffee stays in your mouth for a long time. The staff is taking it easy, but chances are they will have to get going because it's getting late the night before. This is also a meeting place for artists and creative people, where alternative live bands regularly play, there are exhibitions and workshops are given. Online the Mad Café gets a lot of praise for their healthy and delicious food. Next time we will check more than just the coffee! Mad Café|7 Tasman St, Collingwood 7073| +64 352 48660
NOTE: in order to reach the Golden Bay area, you should not be sensitive to pendulum bends, because Takaka Hill is quite an ordeal. Campers are not advised to drive here and with bad weather it may be that the road is closed.
6: Queenstown
In the very touristy Queenstown, the town of adventure and adrenaline, there are of course various good restaurants where coffee is also served. And since there are several nice places, we will give you some tips: The Coffee Club Remarkables Park, 12 Hawthorne Drive Frankton| Franks Eatery Shop 7, 24 Hawthorne Drive Frankton| Raeward Fresh, 53 Robins Road off Gorge Road| Joe's Garage, Searle lane and PIER Restaurant & Bar, Steamer Wharf.
By the way, come especially in the morning when the hustle and bustle is manageable and you have the chance of high discounts for sports activities at various providers.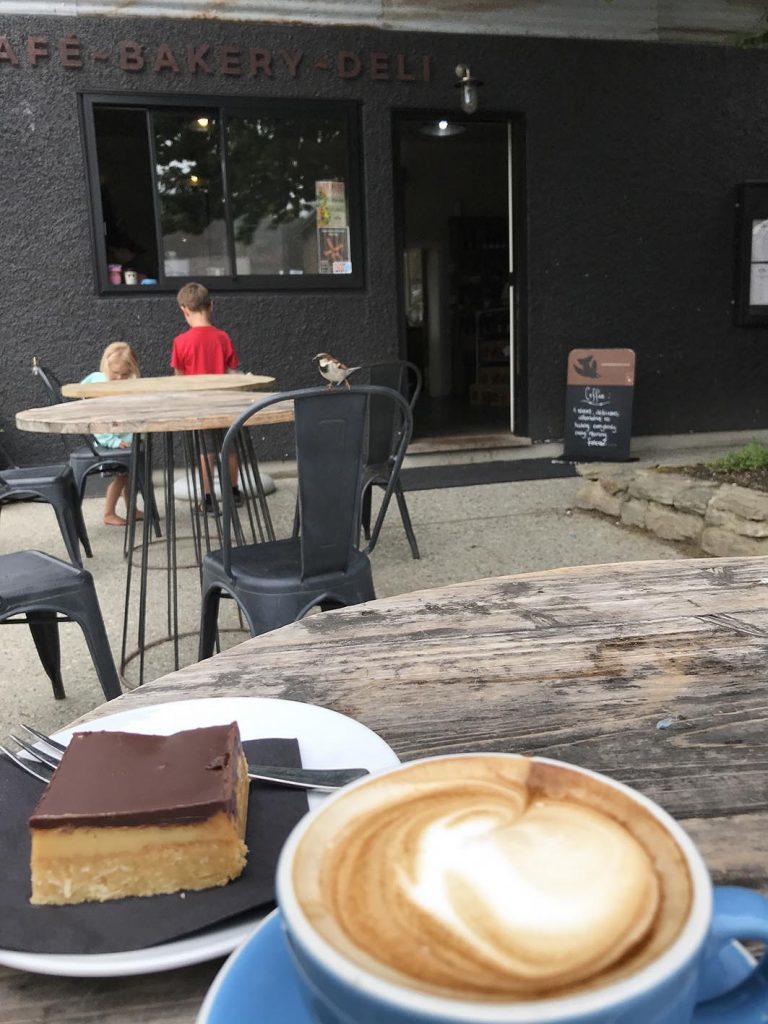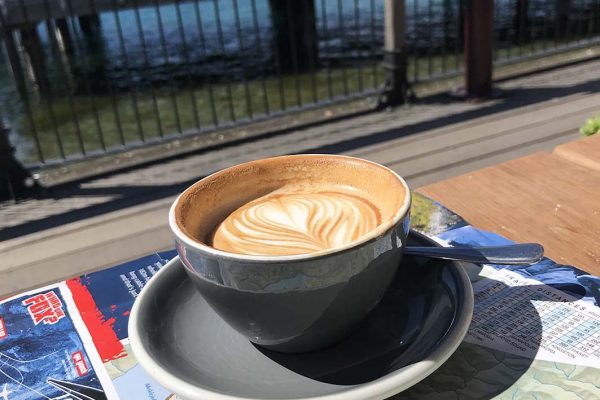 7: The Merchant of Clyde (Olivers)
In the picturesque village of Clyde (which is on the cycling route of the Otago Rail Trail) is the beautiful bakery annex coffee bar and deli, The Merchant of Clyde. The locals talk about Olivers being attached to it. This is a restaurant and bar. To make it even more confusing, here is right behind the Victoria Stew Brewery, which also falls under Olivers. Local beer is brewed here. Anyway, you can sit inside and cozy behind on the terrace. However, it is a hot spot, so you may have to wait a long time. Luckily that's not a punishment, because there are all kinds of local delicacies for sale, like the mentioned beer, wine, 'golden' soap, fresh jams, tea and of course coffee, and that creates some distractions while waiting. The flat-white is not top in structure and foam, but it has a very good taste. That may also be due to the person who prepares it. Here they work with the organic and fairtrade Hummingbird coffee, a brand from Christchurch that uses twenty different beans from Africa, South America and the Asian Pacific. | The Merchant of Clyde| 34 Sunderland Street, Clyde| +64 3 449 2805|
8: Pukeko Store & Café, Hari Hari
Because of the inviting exterior and the fact that it is right next to the road, you would drive right past it, but at the Pukekeo Store & Café they have delicious homemade cakes, muffins and savoury cakes and the coffee is fine as well. It does depend on who is behind the machine. Because we made three pit stops on our way to Franz Jozef and the south of the West Coast, and the flat-white tasted different all the time. Once the difference was very big, with too little foam and too much milk. A good barrista is half the job.
Nice detail: you can buy recyclable coffee mugs with beautiful New Zealand prints of birds for about 15 dollars. However, they are not suitable for tea. |Pukeko Store & Café| 37 Main Road, Hari Hari| +64 3-753 3192|
9: Matheson Café
It is a popular and reasonably priced place, but the Matheson café is also the starting point for several walks around the famous reflecting Lake Matheson. However, it is worth a visit and not only because of the beautiful windows overlooking the breathtaking Fox Glacier (Franz Jozef's little brother). The lunch dishes are fine and the coffee soon tastes like more. There is also a beautiful gift shop next to it with more than the cliché souvenirs you can find everywhere. And you can have breakfast there seven days a week from eight o'clock in the morning in the high season. Matheson Café Lake Matheson Road| five kilometres outside Fox Glacier| 03 751 0878|
10: Ramble & Ritual, Hokitika
Last but not least, one of my favourite coffees and the best in town of the cosy Westcoast town of Hokitika: Ramble & Ritual. The lunchroom annex café is located in a long side street of the city centre and is a popular place among the locals who come here daily for super food salads, freshly made quiches and soups, home made cake, (cheese) scones, Ginger kisses biscuits, muffins and of course the delicious organic coffee. The cheerful ladies at R&R know exactly what a good flat-white should taste like: full, a bit spicy with a creamy layer of foam that only disappears at the bottom. They also serve a delicious 'fluffy' for the little ones, making it a party for kids to go along with. In addition to the sturdy interior of scaffolding wood and various seating areas and bars, there is a play area and various (local) organic products for sale such as chocolate, cards, candles and handmade baby clothes. Ramble & Ritual|51 Sewell St., Hokitika| 03 755 6347|