Anyone who explores Myanmar will find themselves in a mysterious country with centuries-old traditions and cordial people (see our story The Evidence of Myanmar). The Asian country is also full of holy places, which is why we have highlighted a number of interesting locations.
Text: Angelique van Os | Photography: Henk Bothof
1. Mahamudi & Kuthadow pagodas
Mandalay is the religious heart of the country; 65 percent of over 150.000 monks live here. Many locals visit holy places every day, such as the Mahamuni pagoda, named after a bronze statue from the 2nd century A.D. that is four metres high and covered with a thick layer of gold leaf. Only men are allowed to buy gold plates on site and stick them on the statue in the sanctum. Another special pagoda in Mandalay is Kuthodaw, the largest book in the world. It is a series of 729 (!) white miniature pagodas containing marble amulets. Together this forms the complete Tripitaka, the Holy Scripture. A model gives an overview of the enormous complex.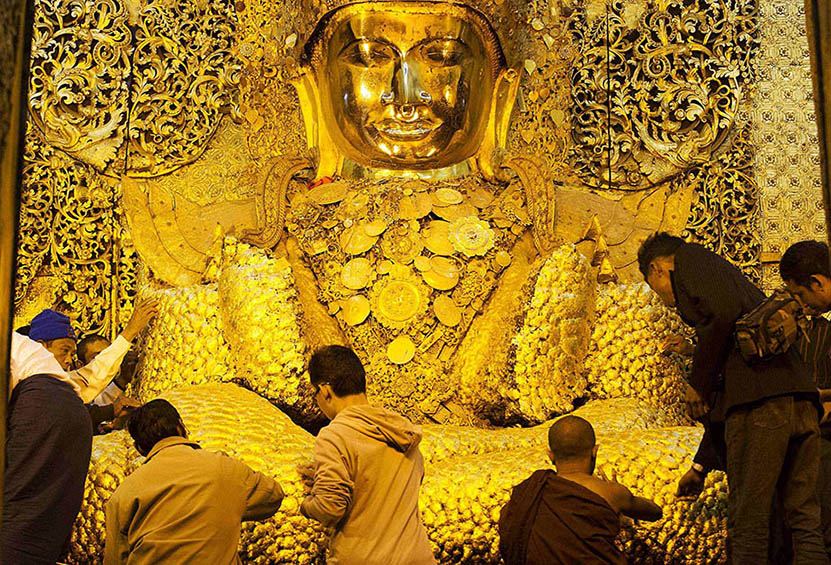 2. Shwe U min, cave pagoda
A lot further north, near the town of Pindaya, lies the Shwe U min, a golden cave pagoda of over 150 meters deep. This magical 'labyrinth' dates from the 12th century and contains over 8000 Buddha statues! It is still a place for pilgrims and believers who have donated statues over the centuries. Behind a small platform with a three meter high stupa you wander through the maze. From miniature to impressive, Buddha comes in all shapes and sizes.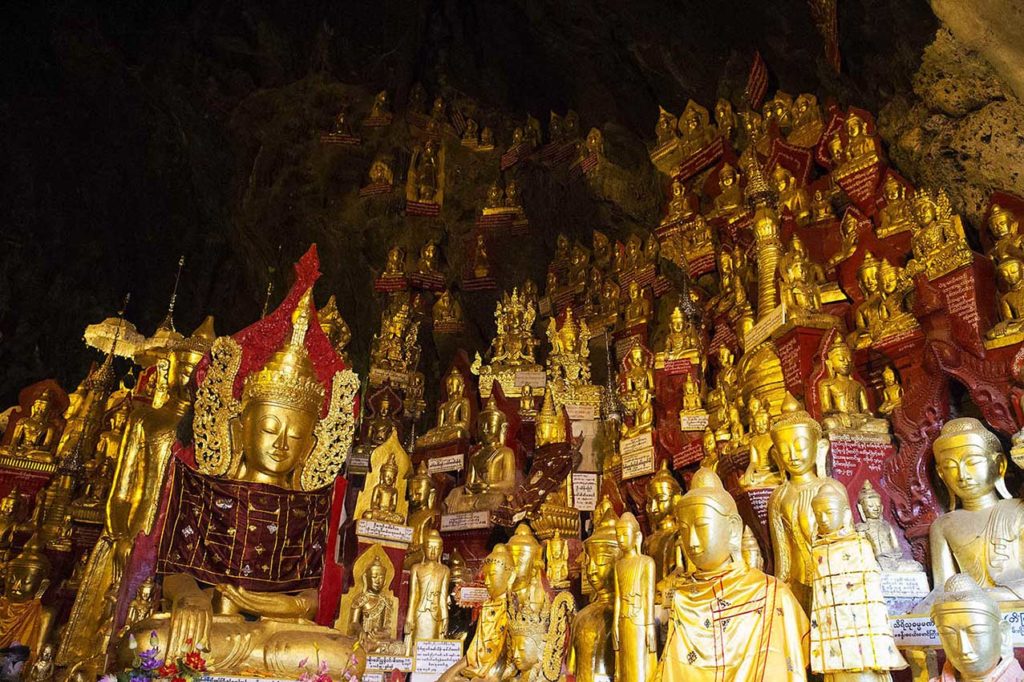 3. Shwemadaw pagoda & sacred snake
Less touristy than the imposing Shwedagon complex in Yangon and similarly beautiful, is the Shwemawdaw pagoda in Bago. The design is derived from the former. The entrance impresses with two huge cinthes (mythical griffins) that guard the entrance. People come here to honour or meditate on Buddha. A day trip from Yangon to Bago is interesting, because there is more to see, like the holy python. Just outside Bago is in an open room, surrounded by cushions a snake that after a vision of a monk came 'blowing on' at the small monastery and never left. Legend has it that the monk and the enormous python seem to have a telepathic connection. The monk has been ill for some time and the snake has been eating badly for months.
4. XXL Buddhas
Even more sacred is the reclining Shwethalyaung Buddha, one of the largest in the world! The statue, built in 994, is overwhelming because of its length of 55 meters, height of 16 meters and richly decorated coffins of precious stones on which the head rests! The four Buddhas of Kyaikpun (1476) are also immensely large, no less than 30 metres high. With their backs against each other they stare at the four directions of the wind and form a square column. The images have an almost hypnotic attraction, you keep looking at them.