Despite the fact that Myanmar has freedom of religion, Buddhism is anchored in daily life. On almost every street corner there are monks, the local population worships statues, buildings and the philosophy of life of a monk is highly regarded. So much so, that every boy (novice) goes twice into the monastery for his twentieth year of life in order to understand the basis of Buddhism.
Text: Angelique van Os | Photography: Henk Bothof
Monks must keep five commandments: don't kill, don't steal and lie, don't commit adultery and don't use alcohol and drugs. To break free from the cycle of rebirth is the ultimate goal of every Buddhist. Unfortunately, this is a bit harsh, as there is a bloody battle raging in the country for years with the ethnic minority, the Rohingya people. Every day dozens of babies are born stateless in neighbouring Bangladesh, in one of the largest refugee camps in the world: Kutupalong-Balukhali (Cox's Bazar). Unfortunately, sometimes the monks are also involved in this violence and they are not as peaceful as they claim to be. Anyway, an even higher goal is to reach the nirvana, the state of bliss. The basis of this consists of elements like reincarnation, meditation, (227!) rules of conduct and creating a good karma (destiny). Because each individual can reach enlightenment, Buddhism is a philosophy of life rather than religion. For many young men, life as a monk is too sober, others see it as a mission. Few women become nuns because they do not want to shave their hair and are not allowed to start a family. Monks eat what they are offered, that's why they stand in long queues in front of the monastery before twelve o'clock in the afternoon or 'beg' them on the street.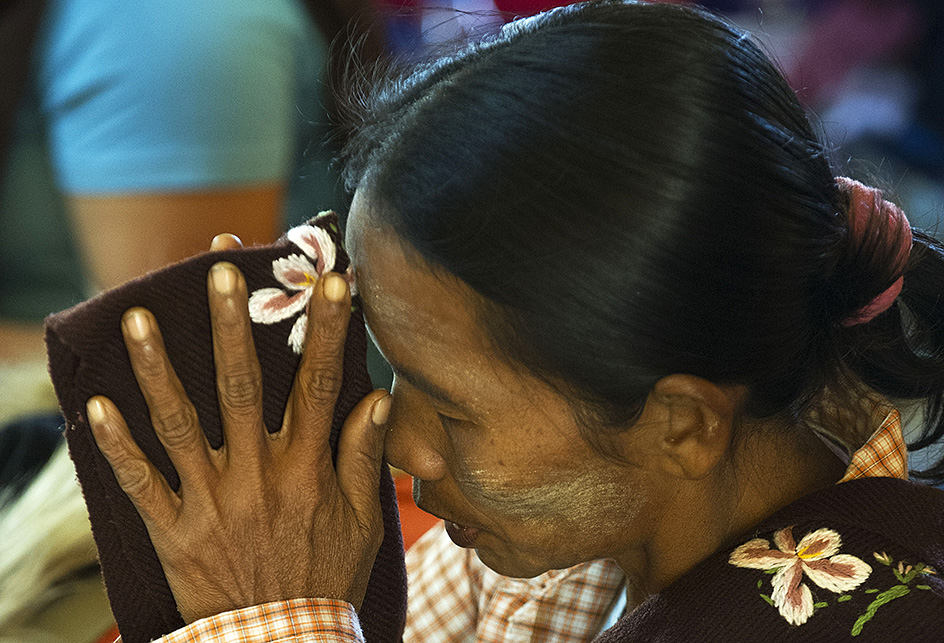 Monks are open to foreign contact as long as there is mutual respect and humility. The spread of tourism works best. Do not go to Amarapura, for example, but visit the small-scale Shwe Inbiu, a meditative monastery with only 30 inhabitants. From half past four you can quietly observe their prayers here. In Loi-kaw (Kayah state) there is Dama Yone Kyaung, where mainly novices live, where you can silently take a look when they study the Bali (the language of Buddha). Between Bago and Yangon there is the Monelaltawya monastery in a hidden bush. What is special is that here fourteen monks share daily life with four nuns. Studying is done separately. Karunika has been the hospitable leader for fourteen years. After ten years of experience he followed in the footsteps of his teacher with hard study. In this peaceful monastery interested people can even come to stay, provided they get permission from the government.
Read for more inspiration: The resurrection of Myanmar.