Between Oslo and Bergen lies the town of Geilo, centred around nature reserves Hardangervidda, Hallingskarvet and Skaupsjøen Hardangerjøkulen. A Valhalla for outdoor activities: from snowshoeing, fatbiking, skiing, cross-country skiing to dog sledding.
Text: Angelique van Os | Photography: Henk Bothof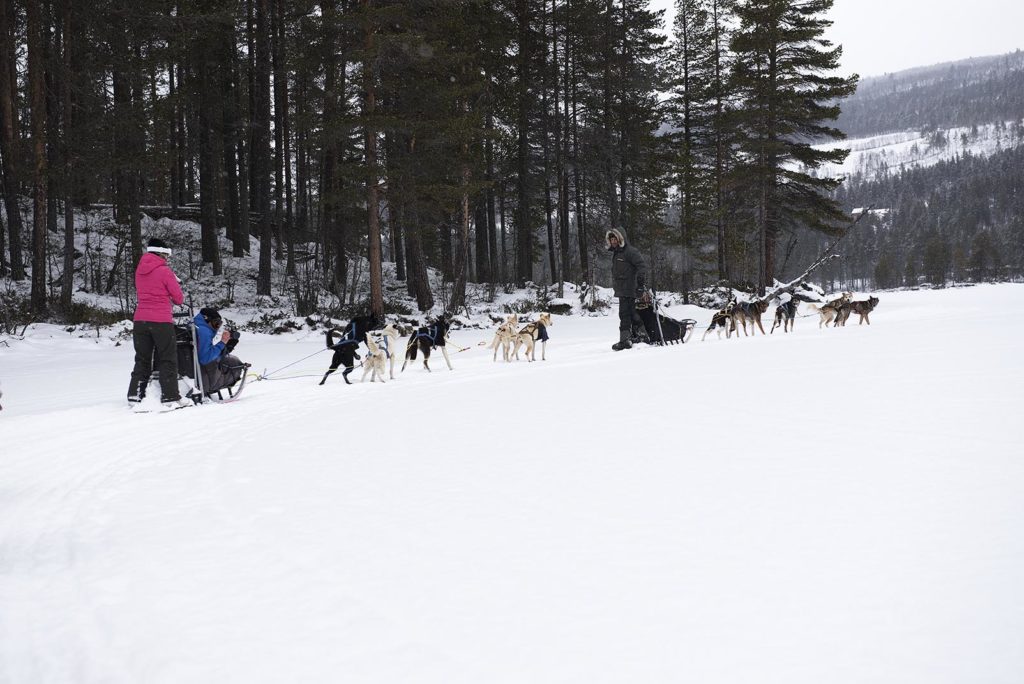 The surroundings of Geilo are perfect for a sled ride with huskies. Around the village there are a number of providers, but we take the car and drive 14 kilometres to the base camp, Skurdalen, where Kenneth Eliassen and his nineteen enthusiastic four-legged friends are waiting for us. For more than fifteen years he runs with his family Fagerlund Husky and makes trips with up to five people over a large frozen lake and goes off track for longer trips, into the woods.
When the dogs have had a power snack, the adrenaline rises noticeably. The dogs bark, test, sniff, lash on the ropes and do their needs while it's still easy. When I settle down in the sled and the musher (driver) is ready, waiting for Kenneth Eliassen's departure is for us. The dogs get wild, start jumping and the first couple of six starts to alertly point their ears. There they go. When the driver releases the brake, we sprint forward. What a speed! We glide over the ice of Holmevatnet. The wind yaws and snow flakes touch the face, while the dogs walk at a fast pace. There is nothing but white plains, surrounded by forest and the Skuldalsfjords. This is a raw and pure outdoor experience. The trip of forty-five minutes flies by and after that it is a big hug with the huskies.
Cost: p.p. €128 of €425 (2+2) | info@fagerlundhusky.no