For more than forty years, Fattoria La Vialla from Tuscany has been authentic in its production of pure, biodynamic products. From pastas, sauces, wines, oils to biscuits. Italian delicacy in bottle or jar. There is now even a responsible food supplement and a cosmetics line, based on the vegetation moisture of olives. But it is above all the lively La Vialla spirit of the people that makes everything even better.
Text: Angelique van Os | Photography: Henk Bothof & archive La Vialla.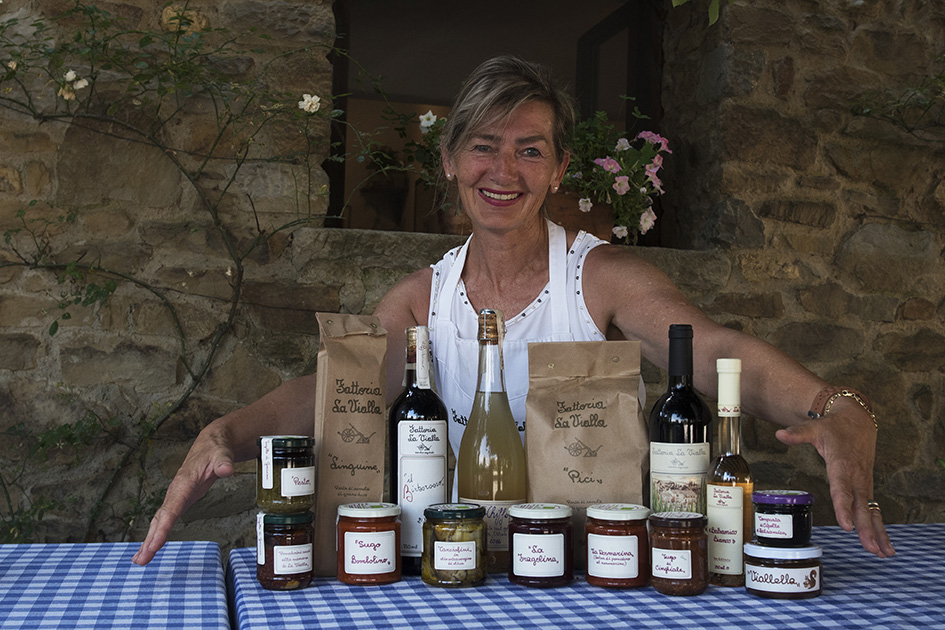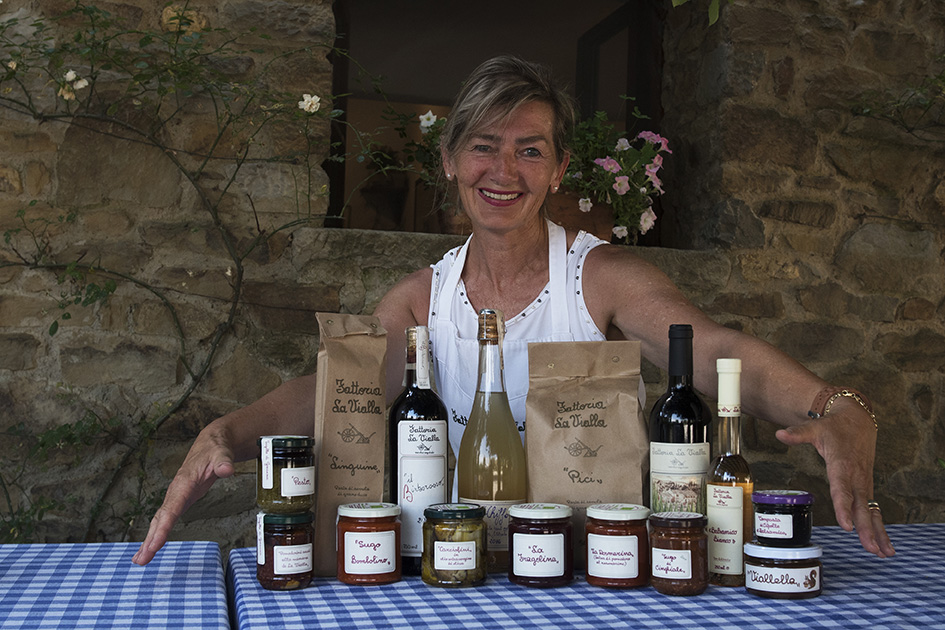 After five visits, we can state from our own experience that the authentic family cordiality is not only sincere, it is a matter of course. Of course it is Italian, but at abiodynamic company like Fattoria La Vialla it is quite special to see that the 'Viallini' who have been working here for years do so with so much visible pleasure. The staff laughs, talks and cooks as if their lives depend on it. Thanks to all this knowledge and cordiality, the food and drink tastes even better. When you open a jar of sauce at home, you think back with nostalgia to the 'factory', where the fresh pasta sauces were prepared on low heat and go straight into the jar to maintain the concentration of freshness. Or at the cenas, where you share a long table full of delicacies with fifty other guests.
Fattoria La Vialla celebrated its 40th anniversary in 2018 and receives many returning guests and employees on their estate every year. It is a community that continues to develop. Fortunately, despite the increasing size of the company, this is not at the expense of quality, but rather at the expense of the spirit. It is at most busier in the summer months. However, the founders, the Lo Franco family, have succeeded in maintaining a family atmosphere, for example by moving the parking spaces from the heart of the Fattoria to a site a little further away. And by adding some tables for lunch and possibilities for a tour.
But will it never get boring? "No, every day is different, because you always receive different visitors. We also have a lot of freedom to talk to guests, because they always come first," says Nicole. She has been working there for fifteen years. Nicole's first boss was Bandino Lo Franco. Together with his two older brothers Gianni and Antonio, he has been in charge of the daily management for over twenty years. Nicole: "I was completely surprised that this beautiful young man became my boss at the time. He was only 24 years old then, haha. But I learned a lot from him and I got a lot of room to develop myself."
Also for the German Céline, head of communication, it is never boring: "La Vialla now has so many products that all have their own story and besides Tuscany also come from different areas, such as Sicily and Northern Italy. With the cosme-tical line we have also taken a completely new direction, so that is a challenge. In addition, over the years we have built up a (close) relationship with many customers. They are part of the 'La Vialla family' and that is very important to us. The mutual appreciation is also great. A while ago I caught a conversation between a journalist and Gianni. The journalist said: "I just met Céline. She works for you, doesn't she? To which Gianni replied: "No, I don't." And after a short break and a surprised look from the reporter, he continued: "She works With us." I thought that was a very nice gesture."
Background
Fattoria La Vialla was born in 1978 thanks to Piero and Giuliana lo Franco who made their vocation of agriculture. They bought abandoned farmhouses and eventually 1300 hectares of land, just outside the town of Castilioni Fibocchi. They renovated twenty-three holiday homes, restored old vineyards and olive groves and built new ones. In addition, they keep about 950 Sardinian sheep and breathed new life into the almost extinct Val-darnese breed of chicken. Finally, they grow grain and grow dozens of vegetables and fruit trees. Together with their sons, Gianni, Antonio and Bandino and more than 150 employees, Fattoria la Vialla has grown into a successful biodynamic company. Pure farming means that the organisms form a holistic whole, in which the feeding of animals, fertilization and watering of plants and the sowing of the land make the difference between con-ventional and biodynamic farmers. The key to this is vital fertility of the soil in which micro-organisms live, so that human intervention is limited. Instead of ploughing the soil intensively, La Vialla uses green manure and produces special preparations based on the lunar calendar. The position and lunar cycle are important to achieve certain results.
Good teacher
The smiling and exuberant Italian Gabriella, chef and head of the museum, has even been around for twenty years. At the time, the founders and parents Piero and Giuliana lo Franco were still at the helm. It was quite a change when she started working at La Vialla. "At first I didn't share the same philosophy as Piero. I came from the banking world and there everything revolved around money, about professionalism. Piero soon turned out to be a good teacher. He taught me to have more respect for others and for the farmland. We treated our customers like friends and it wasn't about money, it was about personal attention. That was and still is his motto. Bring across the love that is in this jar of tomatoes or in this pasta. It's about conveying passion and high quality. It changed me as a human being in many ways," says Gabriella.
Respect the food
Gabriella had the passion for cooking from home of course already inherited from her mother. There was one rule: have respect for the food and reuse everything. The chef hardly ever throws anything away. Leftovers are always applicable to the next dish. That the authenticity and tradition go far, is not only noticeable with the food. The presentation is also striking. Until 2005 (!) the Viallini wrote out the recognizable graceful handwriting, the signature of the company, by hand. From menus, recipes, brochures to labels. Computers were out of the question. But La Vialla's success grew so much and the work was so time-consuming that the Lo Franco brothers thought it was time for a change.
Gabriella also gives guided tours – often in a theatrical way – of the museum, which was founded in 2012. The 'old farmers' that Piero and Giuliana had learned from their ancestors are central to this. It is a small educational centre, a microcosm. "We explain what nature and the seasons can give the product. The biodynamics is based on Rudolf Steiner's philosophy (see background). Where products come from and how they grow. How you can be self-sufficient. And that is actually very topical now. We follow the rhythm and times of nature, and not the other way around. That's why I myself enjoy strawberries very much. Because they only grow here in the spring. So I'm already looking forward to it in the winter. This gives you more respect for food. My future dream for the museum is taste the waste, haha. I would like to make people aware of what kind of sweets they can prepare from leftovers and how much this saves in many ways."
"Bring across the love that is in a jar of tomatoes or in this pasta. It's about conveying passion and high quality".
Onlineshoppen
There is also always room for innovation and research. La Vialla has taken many steps, especially in the past ten years. For example, the shop and workshop have been expanded, as well as a new wine cellar, extra lunch areas and numerous new products. According to Céline and Nicole, this is mainly due to the increasing online shopping, the fast word of mouth and the fact that customers only pay afterwards after making an order. That creates confidence.
In the meantime, Bandino has moved on. How does he look back on 40 years of La Vialla? "All the work that my parents and our employees have done and what I have been able to continue with my brothers, Gianni and Antonio, brings a lot of satisfaction. It is very interesting, because we each have our own expertise and strength. There are three people who decide, which is always better than one vision. Although our parents are in the background, they are still important to the company. They tell their personal stories which we share in our brochures. And we do it together with the 'Viallini team', of course. It's about working together and living together. Yes, and of course eating and drinking together, haha. However, I prefer to look ahead to the future."
Aqua Mora
One of the latest developments is the company's own cosmetics and nutritional supplements line: Oliphenolia. This is a natural source of polyphenols from organic-byodinamic olives. The food supplement consists of a very bitter and softer variant with grape juice. The extract is filtered from the aqueous parts of the olives (vegetation moisture) and contains a high concen-tration of polyphenols. It is recommended to follow a course of treatment of 16 days several times a year. Each container contains approximately 30 mg of hydroxytyrosol. This is one of the most powerful antioxidants in nature. A few years ago, Oldest Brother Gianni Lo Franco saw a programme on television in which Dr. Albini was a guest and told how natural substances in food, for example olive oil, can also be applied to products that are not everyday food. At the time he made contact with her and together with her, and later with a whole team, they started to explore the possibilities. A colleague, Professor Dr. Pizzichini, discovered how the vegetation moisture can be extracted. At first, the Lo Franco's were sceptical as to whether this product would be successful, because to have your customers drink a bitter pot for 16 days is quite demanding. Their great-grandmother Catherina thought differently in the 1950s. While pressing the olives, she used to drink half a glass of 'aqua mora' a few times a day. This 'dark water' was, as we now know, the rich vegetation moisture with the very bitter taste. Bandino: "My parents and my brothers were amazed that my grandmother drank this without blushing. It did her good and she was right too."
Nourishing creams
The face/hand cream and the serum are a sequel to the Oliphenolia. Bandino: "Dr. Thomas M. Schmidts, a customer of La Vialla who makes creams, approached us. He was so enthusiastic about the dietary supplement that he convinced us to develop creams that contain some of the same ingredients. We are happy with the result and are looking at a possible body cream and lotion."
Developments in the wine cellar
Even when it comes to wine, Bandino is still a long way from being there. "We are convinced of the good quality, but our wine is not yet as refined as we would like it to be. That goes for example for the Barricato and Casal Duro. If you look at five years from now, I think we are a lot further in taste development and refinement. I am convinced of that. We have kept some of the best vintages separate, so that in the coming years we can see how those wines ripen in just under ten years' time. We work with good oenologists, so we rely on their knowledge. This is just one of the important products that we want to improve. So we, the 'Viallini' and the third generation (our children), still have enough to work on in the coming years."
Celine's favourites
"I always have extravinge olive oil and wine in my house. I use the oil mainly for cooking, for salads, soups and pastas to add extra flavour. As an aperitif, the Cuvée N2 is my favourite; this is a good alternative to a fresh, modern champagne. The LeccioMoro is a delicious red wine for Tuesday evening, because for only seven euros you have a good fruity, full intense wine. For more refinement I prefer the Casal Duro."
"Antipasti: I learned to eat the Olive all'Arancia. Now I like the combination of black olive, orange peel and red pepper. The Carciofina (artichoke sauce) is jummie! I use vinegar and Aceto Balsamico for everything! Sugo all'Aglione is a delicious spicy sauce, especially with garlic. The Peperotta (pesto with paprika) goes well with crostini. If you have something left over, recycle it by mixing it with some leftover pasta cooking water and ricotta. Then you have another delicious sauce. The Ricciole (wheat germ paste) with its funny shape has a full flavour. Food for the skin is our Oliphenolia serum; one drop is enough. And from our own olive groves." And from our own olive groves."
Nicole's favourites
"I love the simplicity of Italian cuisine. That's why I love our Bombolino cherry tomato sauce and green pesto with pine nuts. If you mix a spoonful of hot pasta cooking water with the pesto and apply it to the pasta, you only need to use a little bit. If you add a little new oil to the surface of the opened jar, you can keep the pesto in the fridge for a week."
"Another favourite is the sweet and sour Balsamic Bianco, which subtly extends salads. And of course olive oil and artichokes in pots combine very well with crostini. The onion compote is delicious with cheese."
"In terms of wines, the Chiffon and the Chianti 2015 are at the top of the list. The Chianti in particular has a good price/quality ratio and is soft in taste. At breakfast I like to eat the Viallella, the hazelnut paste. It does not contain sugar, but agave syrup. Or the Frago-lina (strawberry) puree, which is a good addition to ice cream and yoghurt. I love the hand cream and the OliPhenolia serum. It really tightens my skin, which is something I have never experienced before with cosmetics." It really tightens my skin, which is something I have never experienced before with cosmetics."
More info
If you want to taste all that good food yourself or want to give it as a gift (for the holidays), please visit lavialla.it There are special gift packages in all kinds of price ranges.
Read HERE also the story we wrote earlier about La Vialla.
The Fattoria is open for visitors from April to October. Lunches and guided tours are possible during the same period. For the Merenda (an extensive bread meal with the products of La Vialla) there is no need to reserve. For reservations and further information: fattoria@lavialla.it