Angola is known as a war-torn country, where corruption, violence and poverty are rampant. However, the West African republic has been under reconstruction since 2002 and is an interesting destination for culture lovers. Because nowhere in the world you will find so many tribal peoples as in Angola. Travel to the south, where time seems to stand still in the bush.
Text: Angelique van Os | Photography: Henk Bothof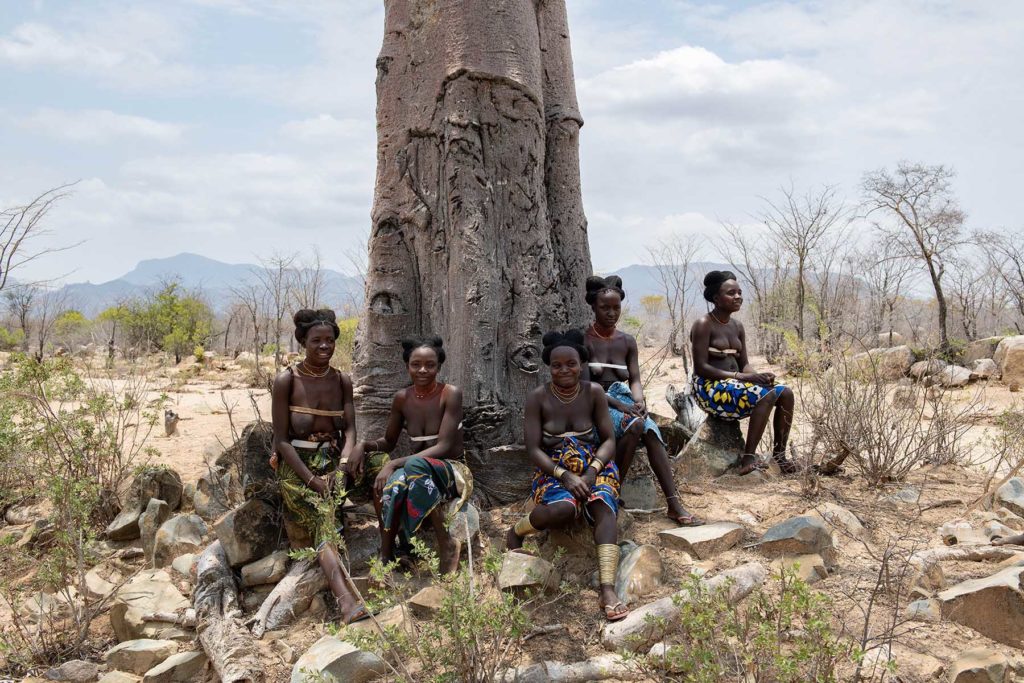 T he is only an hour and a half drive from the southern city of Lubango. Yet it feels like we are at the end of the world. Driving on dusty, unpaved dirt roads, we don't meet anyone for miles. Low vegetation, vast savannah and scattered trees with mountains make up the landscape. The bumpy road shakes the Toyota pick-up and judging by the puddles, it rained hard during the night. It's mid-October; the rainy season has just begun.
Authentic Southern Angola
People appear out of nowhere, carrying jerry cans or with merchandise on their heads. However, we do not see a village anywhere. Locals have to travel considerable distances to get from one hamlet to another. This is the authentic South Angola, where tourism is in its infancy and infrastructure is limited. It is a special destination, because the southwestern provinces of Huila, Namibe and Cunene preserve the most authentic cultures in all of Africa. Peoples such as the Muila, Himba, Hakaona, Mucubal, Humbe and Nguendelengo still live here according to age-old traditions. And that is remarkable given Angola's turbulent past.
Of course, the scars are still visible in everyday life; from the Portuguese occupation (1575-1974) and apartheid, to rusted tanks from the civil war (1975-2002) along the way. The contrast between poor communities and the rich oil and diamond industry is enormous. Villages consist of huts and stone skeletons, framed by litter and scurrying small livestock. Despite the fact that people have little, they are extremely friendly. And now that it is affordable to travel around the country, Angola can be rediscovered.
Local guide
Despite the rapid development of the capital Luanda, the south of the country seems unaffected by the fast-paced lifestyle. The simple existence revolves around survival: herding cattle, cultivating land and selling or bartering merchandise. We do not meet any other travelers during our two-week trip. Ozio, our local guide and driver, knows how to find all villages blindly, no matter how deserted. When not guiding small-scale tours, for the Spanish travel company Last Places , he works as a police sergeant. Ozio speaks all the languages of the indigenous tribes we visit, which he learned from his mother. His talent for languages is worth gold, as it soon turns out.
Muila
Finally we approach the first people we visit on this trip, the Muila. Last Places protocol is that guide and visitors first meet the soba, the tribal leader. In this case it is Tchilume. He shakes Ozio's hand firmly. His community consists of about 6,000 people in a radius of 20 to 30 kilometers. The village has wooden and mud huts and a courtyard where people gather and women prepare food.
Warm welcome
The Muila receive us warmly. It is only the fourth time that they have received Western travelers in their village. Some children are scared of our strange skin color and light hair. "Okamene?" (How are you?) asks Ozio, and in unison the enthusiastic response is, "Tchu," which means "I'm fine." The women laugh exuberantly when we try to speak their language. Pigs, ducks and chickens with chicks scratch in the yard. Dogs lie stretched out in the sand, while mothers with babies on their backs grind flour with large mortars. Men are often employed elsewhere. This village image applies to all tribes we visit.
Clay dyed hair
Muila women are recognizable by their clay-dyed hair and the huge colorful beaded necklaces, bracelets and anklets they wear. The bare upper bodies and the typical hairstyles are characteristic of a specific tribe. It's all about beauty. Once a month, the Muila replaces the clay in the hair, which is red or yellowish in color, with a new layer. This is done by making a mixture of pieces of bark and sap from trees, mixed with sand and butter, which produces a clay-like substance. With a mirror they bring the hair into the desired model in a few hours.
Beauty
They buy the beads at a local market. The specific hairstyle and embellishment of necklaces and accessories are done to emphasize the feminine beauty. "The younger generation is less likely to adopt the old traditions because they find the chains too heavy," explains Ozio. A number of ladies regret that their culture is diminishing because of this, but it should be a free choice. Usually around the age of fifteen, the girls still tack and undergo the so-called Fico ritual. ->>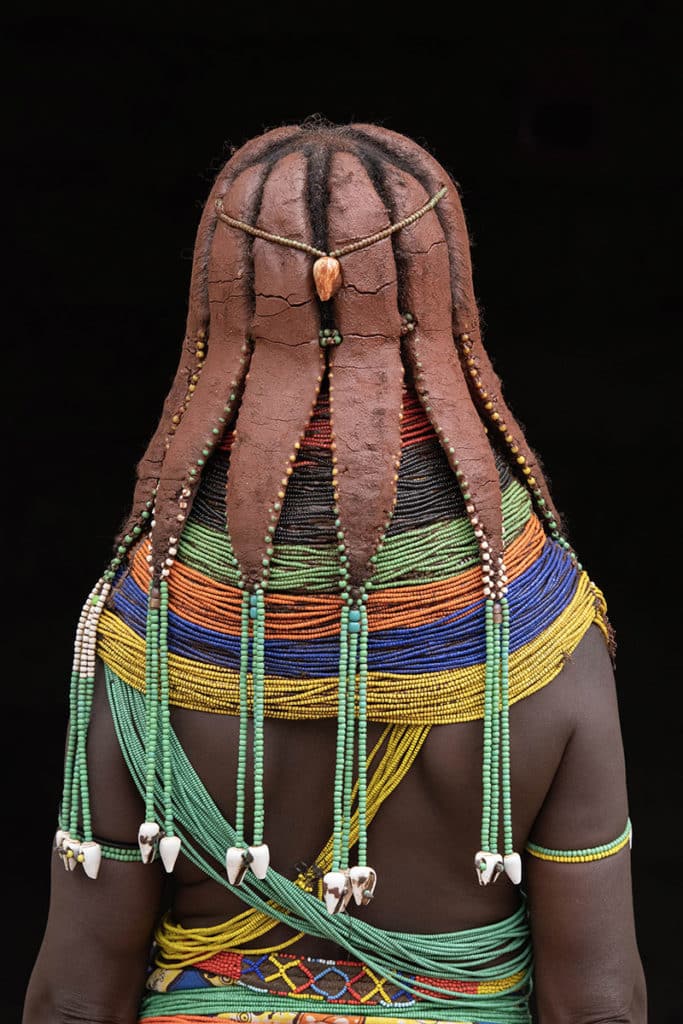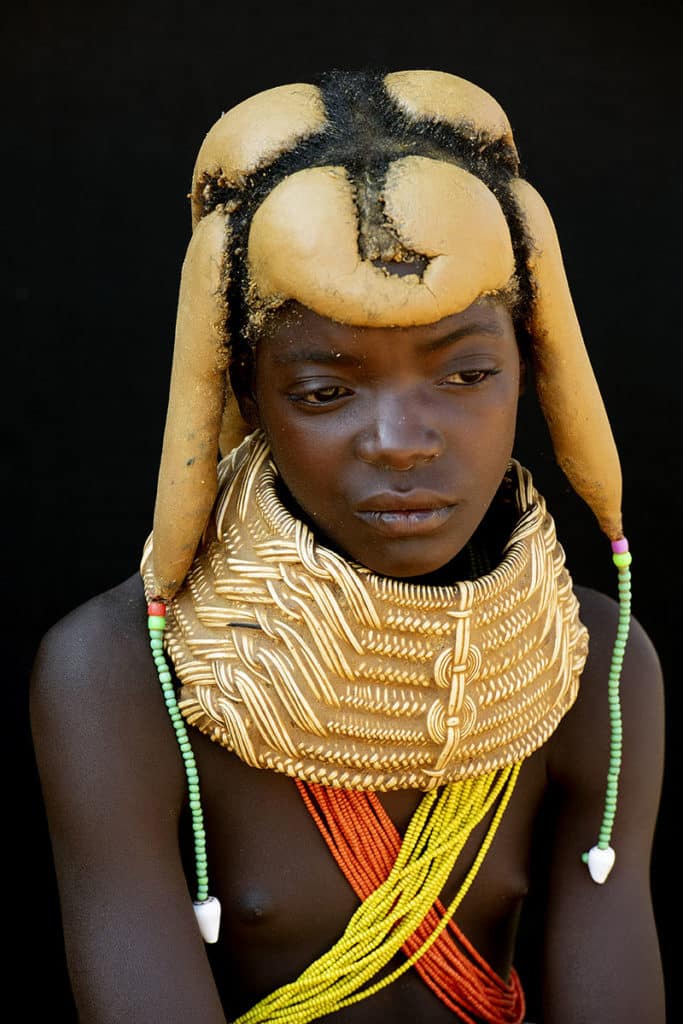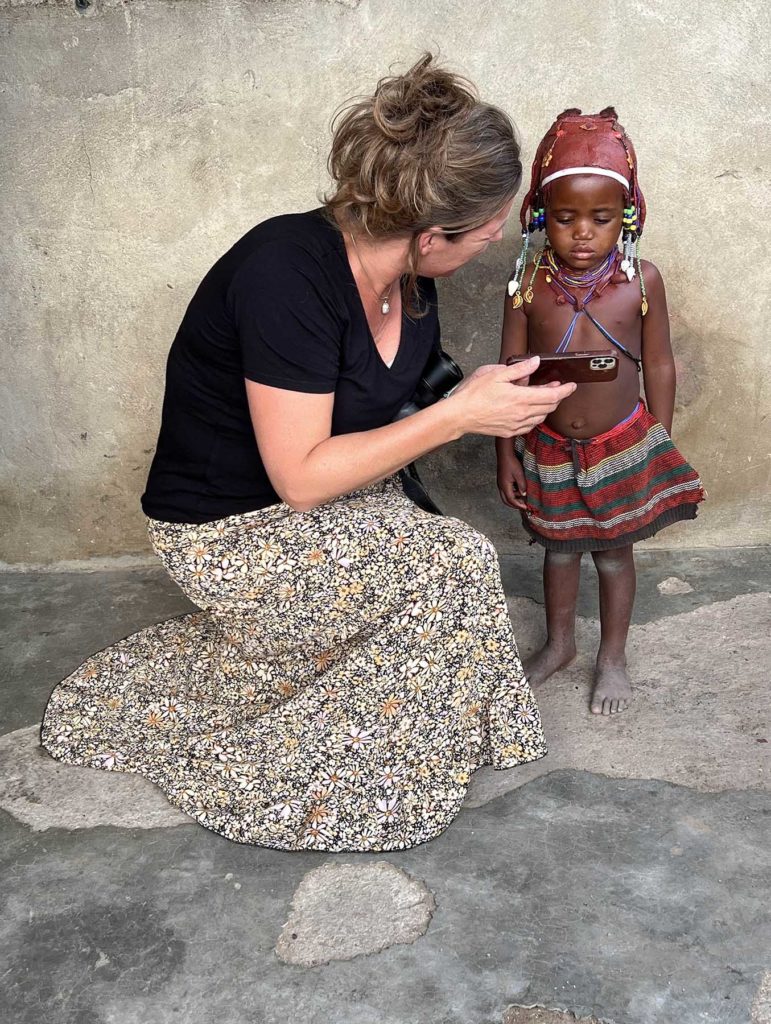 Fico ritual
A Fico ritual symbolizes a rite of passage. The development of the breasts shows whether a girl is ready for marriage. That is usually around the age of sixteen. Tribes each celebrate this in their own way with an official ceremony and a three-day celebration of dancing, singing and drumming, with the hair style being the focus. Ficos are characteristic of Angolan peoples. The hairstyle shows what status a woman has. Is she ready to get married, is she married or is she a widow.
The uninitiated girls are called Ficar from the age of eight. They can be recognized by wearing red uncula (a mixture of reddish clay and butter) covering the hair. When the girl is marriageable, the red uncula changes to a more complex shape (see middle photo). When the initiated women have their first child, the uncula hairstyle changes to a yellowish color and symbolizes the full status of the adult woman. The hairstyle is complemented by cow horns, the totem animal of the Muila.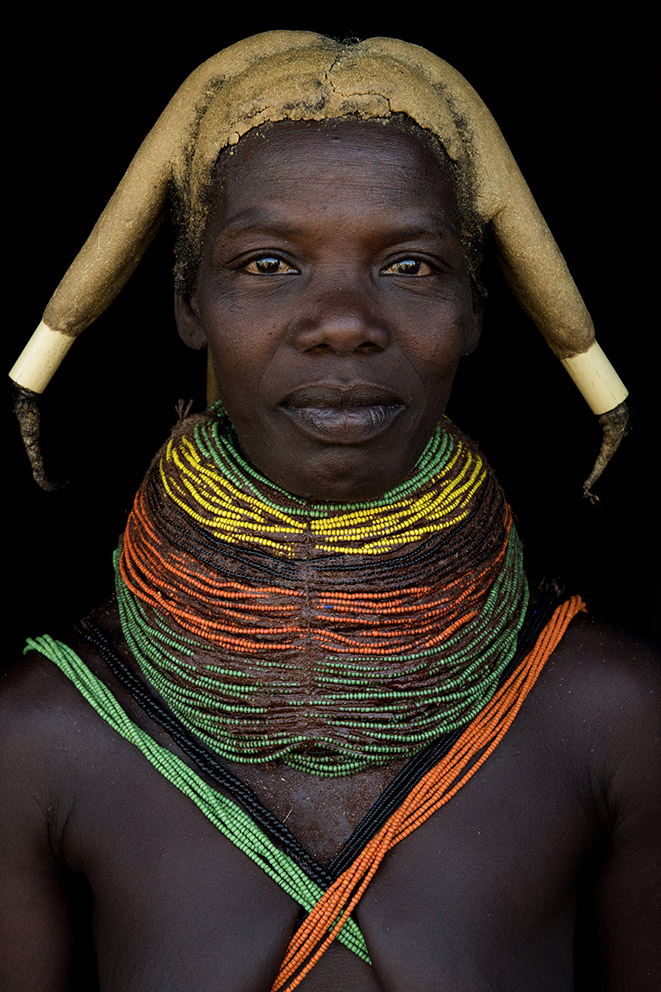 Ceremony
During our trip we are lucky, because it turns out that there is another Muila village where three girls undergo a Fico ceremony. Such a festival is only celebrated once a year between June and October per village, because only in that period can the fruits of the Baobab tree be harvested. These are important ingredients of home-brewed beer and distilled liqueur. We arrive in the dark and see about three hundred people partying and dancing to cheerful African music that echoes loudly from the speakers. While dancing we immediately disappear into the festivities. Then a soba presents three young women, wrapped in cloths. He shows the humble girls with their new hairstyle, a sign that they are ready to present themselves to their future husbands with whom they celebrate their engagement during this ceremony.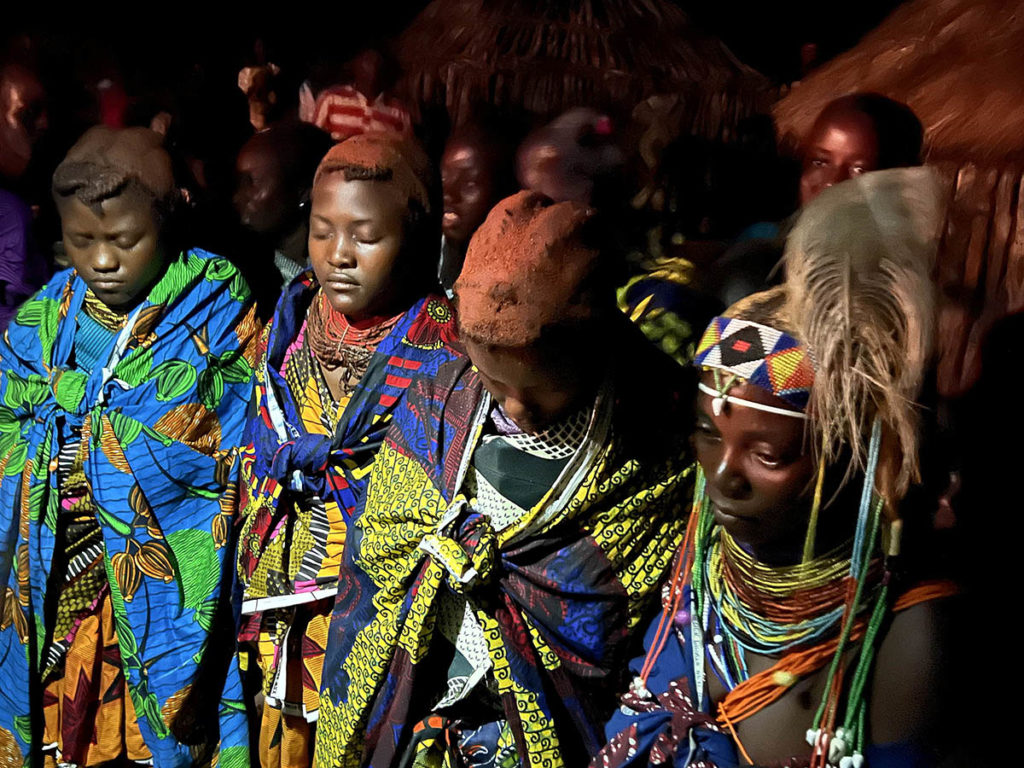 Well-preserved folk traditions
->>The next day we leave early for the remote south, near the Namibian border. About 320 km long, our main oncoming traffic is cows and goats crossing the roads in their dead field. After the village of Odchieju we really leave the inhabited world. For two hours we imagine ourselves in a desolate landscape full of drought, sometimes supplemented by imposing baobabs and rocks. Various tribes can be found in the vast surroundings of Ozio's village of Oncocua. Because the Portuguese only left their traces here to a limited extent from 1950, the folk traditions have been well preserved here.
Street children
We camp in front of the restaurant of Ozio's wife, Briste Esmemeralda João. We receive a warm welcome from about fifteen village children. A three-year-old boy named Zenmaria immediately catches the eye. He is very affectionate and constantly snuggles in my arms. His mother left him and his sister behind. Their father is always drunk," says Briste. Fortunately, she feeds him and many others daily, otherwise the fate of these street children would be even more harrowing. When Zenmaria's sister comes to get him in the evening and they disappear together and into the dark, our hearts break. "The government, led by President João Lourenço, regularly sends a truckload of food for the local population," says Briste. "However, food often falls into the wrong hands." Children who are not allowed to go to school like Zenmaria have nothing to fall back on and an unhappy future awaits.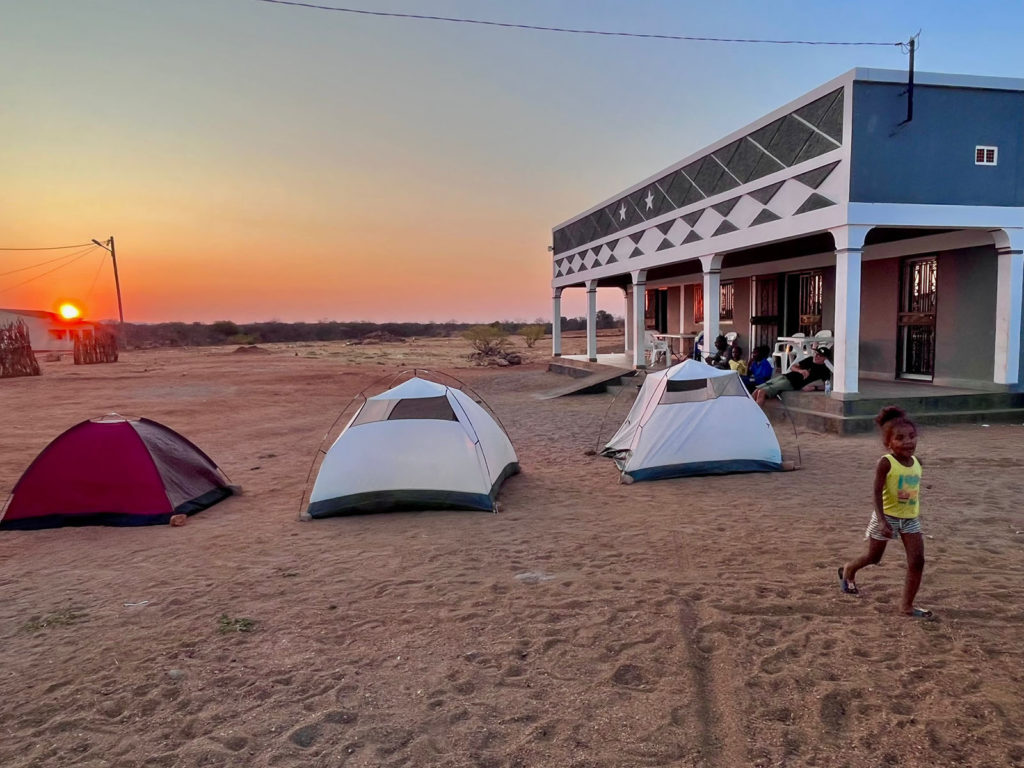 Himba
The visits to the Himba and Hakaona tribes give new energy. Both are warm and proud people. The Himbas have the highest prestige among the tribal cultures and live mainly from their cows. Like the Muila, the Himba women are all about natural beauty. They smear themselves with butter and ocher, giving their skin a bronze sheen. They look beautiful with their decked out brown wisps of hair with black, fuzzy tufts underneath. "Himba lengthen their hair with ropes and thicken it with a mixture of tree sap, powder and butter, which produces a clay-like brown substance," Ozio says. The black balls are fake hair, Made in China.
Making up
Some women wear a goatskin crown on their heads. Around their necks rests a heavy self-made chain, consisting of branches, clay and white beads. Their hips are covered with goatskins. The women patiently allow themselves to be photographed. In the meantime I get out some make-up and show how Western women put on their make-up. 'Buonita', it sounds accompanied by a lot of giggles. I ask if they also want to try mascara and a number of them eagerly agree. They look closely at themselves in a mirror.
Discriminated Khoisan

Sometimes poorer nomads, such as Khoisan and Vatua, copy the customs of the wealthier bantu peoples that include Himba and Hakaona. There is no intermarriage in Angola because the bantu look down on poorer tribes. Severely discriminated against, the Khoisan are one of Africa's most endangered tribal peoples. You can read more about it in our article by Newspaper of the Earth.
Hakaona
After a few hours we say goodbye to the Himbas and move on to the Hakaona, where the women wear a kind of rounded quiff. They use a roll of grass for the round shape and put wood paste on it, mixed with jet black oil. Some have rods made of rolled-up cola wrappers hanging from the back of their hair. It looks artsy. "The Hakaona used to be inspired by a nearby mountain of the same name," says Ozio. "Hence the shape at the front of their haircut." In the village, the residents are in awe because of the tropical heat. They are stuck close together under an open hut that provides shade. Our visit brings some life to the brewery. Children in particular are curious and feel our smooth hair. They think that's crazy, just like our pointy noses.
Humbe
We leave the isolated Cunene region and make a stop at the Humbe. Especially for us, two women spend a day working on their special hairstyle: Ngava, the so-called elephant ears. Two girls lie patiently on their stomachs, while the hair is filled from behind with a brown mixture of finely ground wood from the Mukete tree. They sprinkle this, diluted with water, between the hair so that it gets a convex filling. Gradually two thick layers are created, complemented by braids and fake hair on the side. This is followed by a wide black band where the 'ears', consisting of two black, woven round rings, will later be placed on the side. When we return a few hours later, the girls look beautiful. They proudly show off the result and together we make a dance of joy.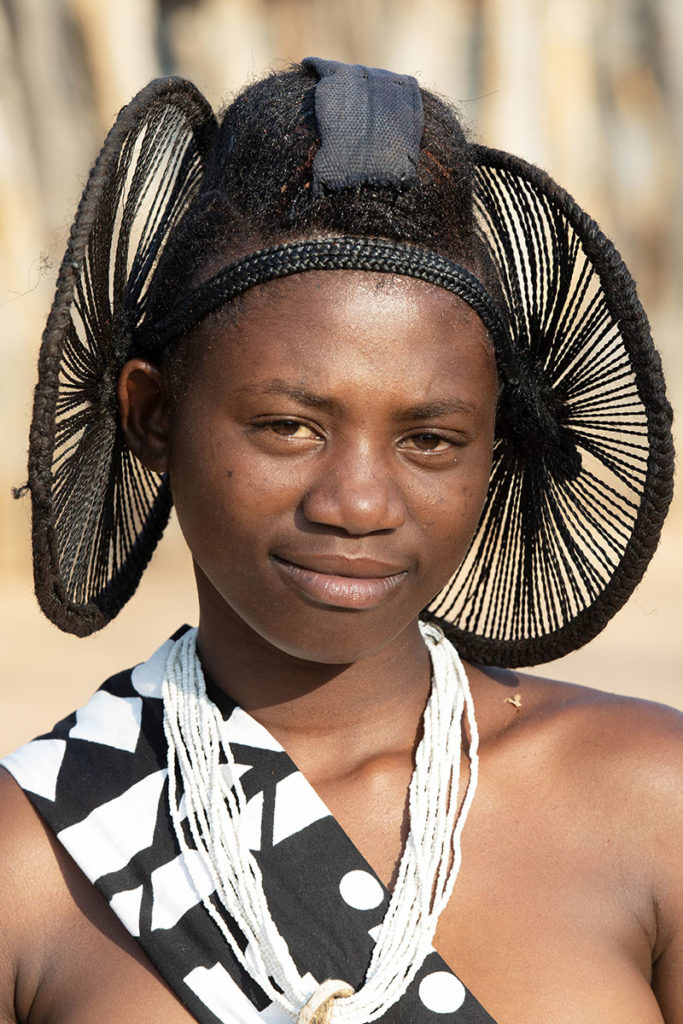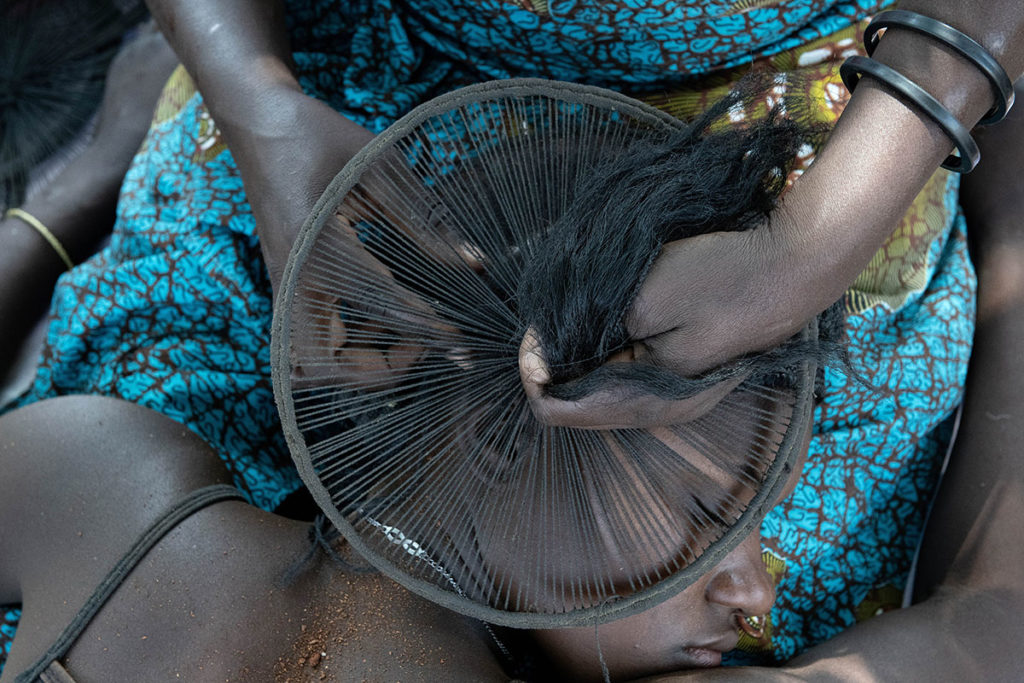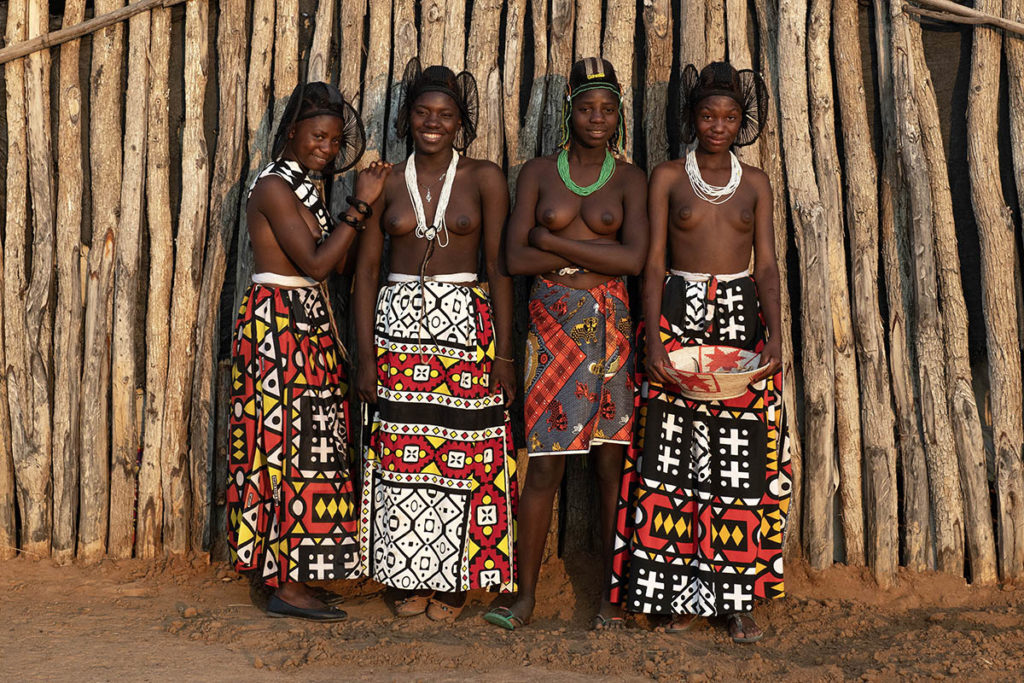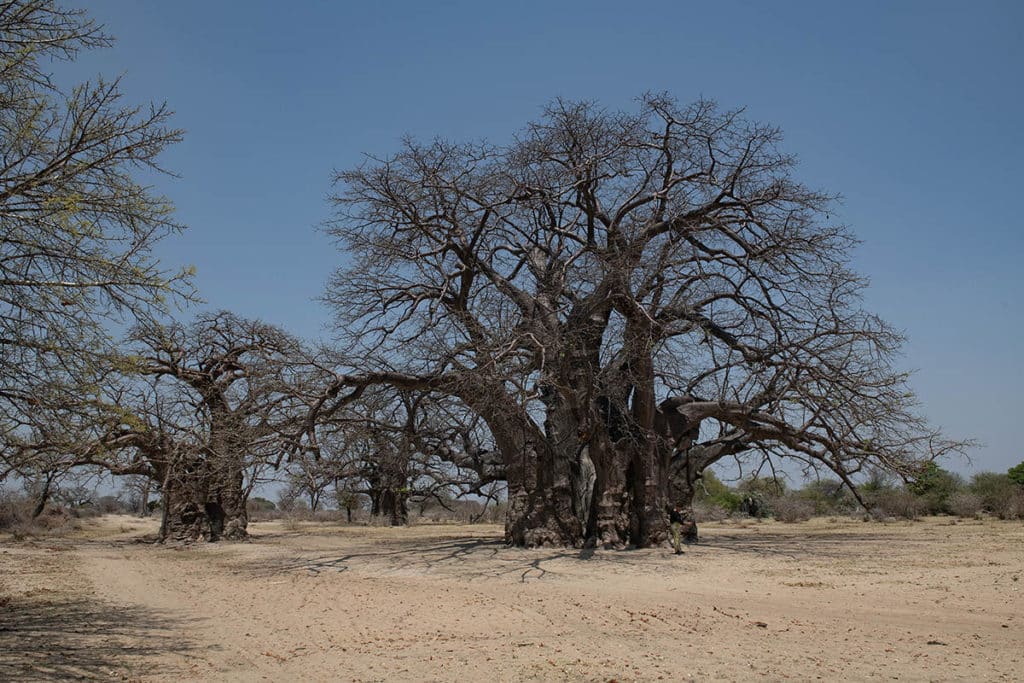 Long trip
Due to the rugged landscape and limited road network, we cannot continue to the coastline of Namibe, which seems much more logical on the map. We have to get around it. It's a long, beautiful journey. We pass the Lebapas, with beautiful views over the rolling rocky landscape. Hours later we reach Giraul Oasis (see box Nature tips).
After a three-hour drive from the port city of Namibe, over dusty gravelly sand tracks through the vast emptiness of the Iona desert, we reach the remote village of Virei. When the Portuguese left after 1936, the locals stayed. We go even deeper into the bush, looking for the Mucubal. The women can be recognized by taut ropes or plastic belts around their breasts and wear a kind of rectangular headgear. We only find three women and their children who have stayed behind to look after the small livestock. At dusk we pitch our tents and start cooking, bringing other Mucubal towards us. We provide pieces of bread, fruit or soap.
Tumba ceremony
After a night of camping under a clear star shower, we get up very early for a special Tumba ceremony. This is about expelling spirits that have entered the body. When we arrive, we meet quite drunk people. Some slurp bags of whiskey empty. There are six 'possessed' women. They isolate themselves, drum and make humming noises. Suddenly they form a circle, singing and clapping, surrounded by others. The women dance in the center with serious faces, as if in a trance. "This ritual can last for a few days. When normal behavior returns, the ghost is gone," Ozio says. >>
Code of Conduct
Anyone traveling through South Angola should realize that there is a code of conduct and 'entrance fee' per village. Permission is also required from the village leader (soba) for taking photographs, for which a small fee per model is requested. Here, the guide plays an essential role in the negotiation as he is well aware of prevailing prices and ensures that both travelers and villagers feel at ease.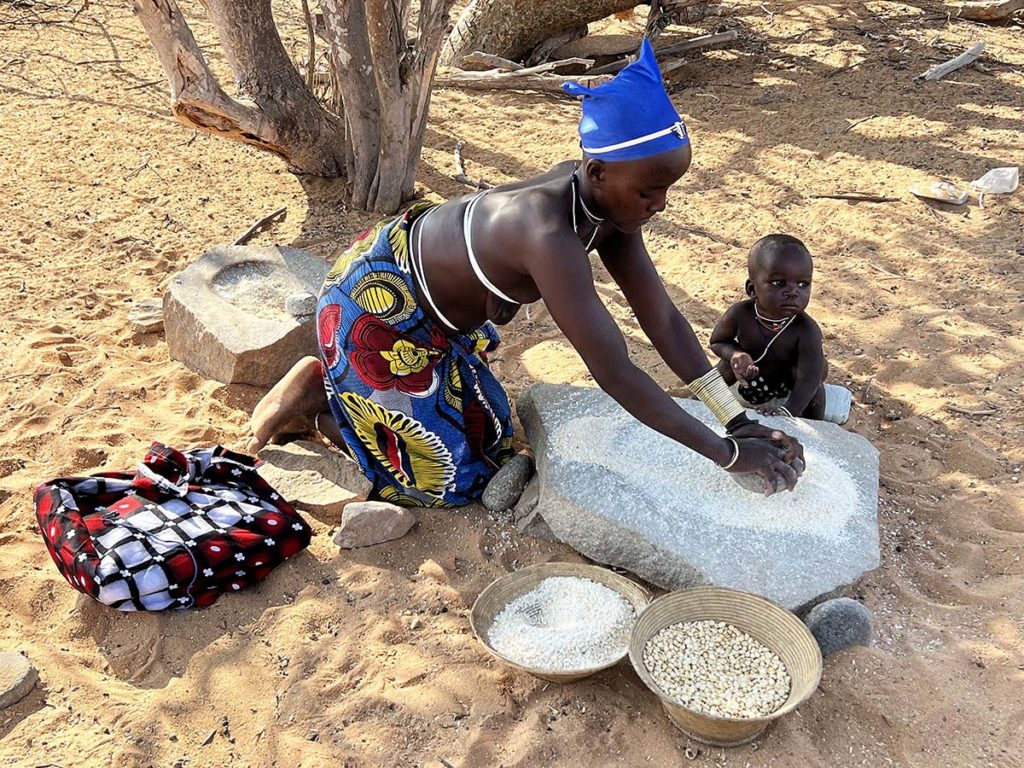 Nguendelengo
->>The last tribe we visit are the Nguendelengo. When we arrive with the soba, an enthusiastic reception follows. We brought soaps and biscuits, a small gift that brings appreciation. The women of this tribe wear beautiful buns on their heads that they often cover with cloths so that the hair stays clean longer. After four weeks they replace the buns with new ones. The Nguendelengo always wear this hairstyle, apart from a Fico ritual.
Selfie fun
While some of the ladies pose for pictures, I am surrounded by children and young women. I have noticed that communicating with images works well. 'This is my son', I show them a picture. They point to his blond hair in amazement. They don't know that. And photos of pets get lots of chuckles. A girl points to the phone, then to herself. I film her and when she sees herself again, an exuberant reaction follows. Selfies are even more fun. When we say goodbye, one of the women asks if we would like to bring a printed photo for them next time, as a souvenir. We are grateful for their kindness and hope that these and other tribes can continue to live so pure in this unpolished land, despite the limited contacts with the Western world.
---
Angola practically
How to get there
There are no direct flights from the Netherlands to Luanda, the capital of Angola. A connection from Paris or Frankfurt is the best option. There are various providers such as KLM, Lufthansa or Air France (from €515, skyscanner.nl) . From Luanda you fly to the second city of Lubango, which is located in the south. You can also travel from Luanda by car or bus, but then you will be on the road for at least a day longer. The best travel period is from June to the end of October. Then you avoid the rainy season. Temperatures can rise to 30 to 40 degrees.
Local transport
Angola is not a country where you should drive on your own. In the cities it is chaotic and the remote peoples that sometimes move cannot be reached without a guide who speaks the language. The road trip starts from Lubango, where the guide knows exactly where to find the right people.
Travel organization Last Places
Last Places specializes in cultural travel and ethnic diversity. Spanish founder Joan Riera is an anthropologist and has spent the past 25 years focusing on responsible tourism in which respect, observation and contact with indigenous tribes are central. Last Places focuses on remote areas and lesser-known travel destinations, such as South Sudan, Niger, Chad, Cameroon, Nigeria, Yemen and Pakistan. The trips are possible because of the huge network of local fixers/guides who understand the languages and cultures.
In the Benelux, Henk Bothof (info@henkbothof.com) is the point of contact on behalf of Last Places. Sometimes he guides trips in small groups of up to 8 people or provides personal tailor-made solutions.
Prices to Angola vary per number between €3,500 – 6,000 pp, excluding international flights. In Angola, guides, transport, accommodations and partly food are included in the travel sum.
Visa and vaccinations
A visa is required in Angola (€105). There is no malaria in the south of Angola, but it is wise to use protection if you stay longer than two weeks. A vaccination against Yellow Fever is mandatory. DTP and Hepatitis A and B are recommended. A PCR test is currently mandatory, but always check the latest travel advice.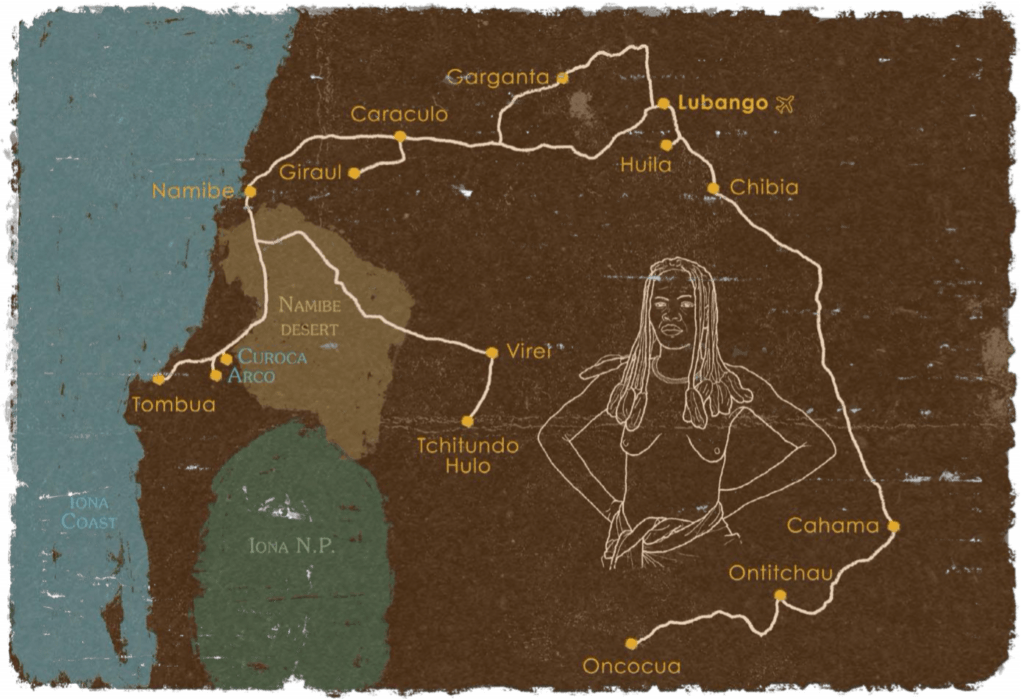 ---
Nature Angola
The nature and landscape of South Angola are untouched and rugged. It consists of vast desert vistas, rolling savannas, exotic flora framed by rocks, volcanoes and high mountains.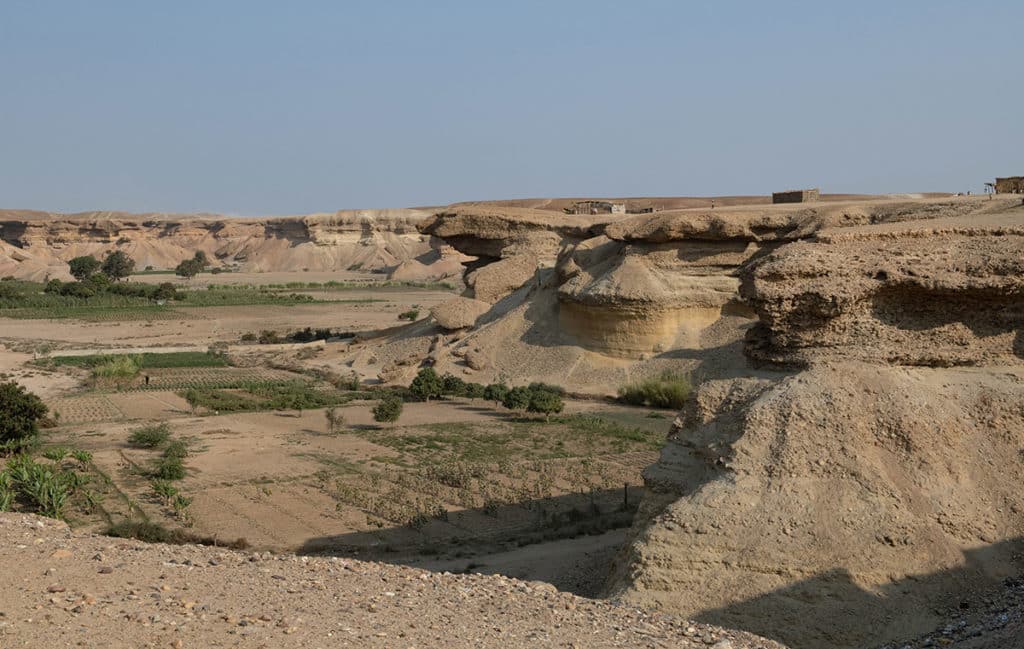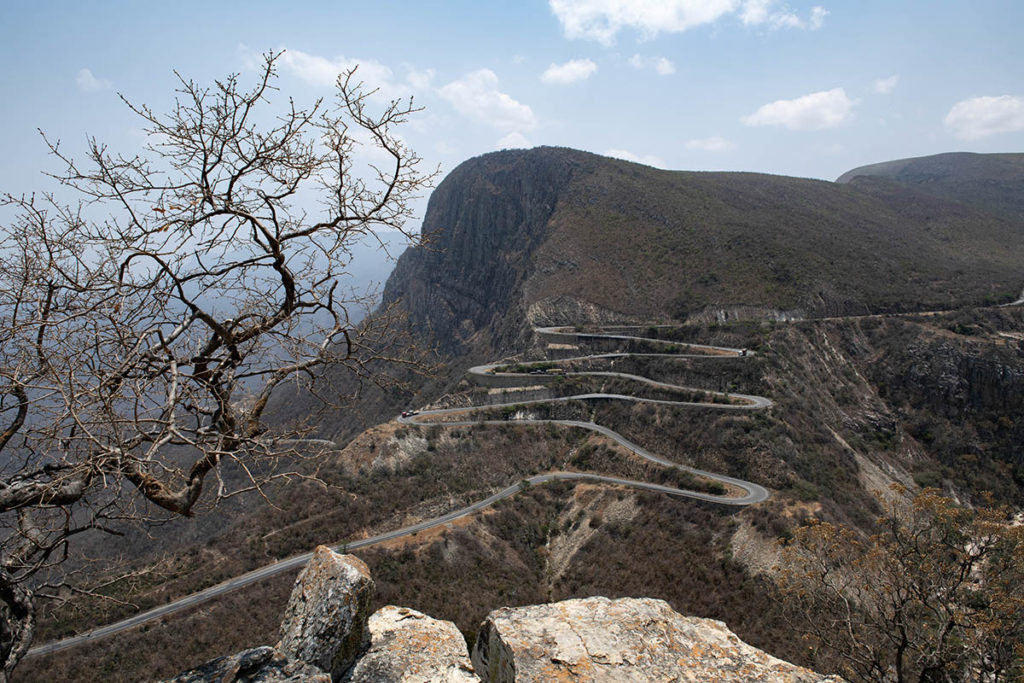 Leba pass
The spectacular Leba Pass connects Lubango to Namibe with a series of hairpin bends at an altitude of 1000 metres. At the top you will find a beautiful viewpoint overlooking the valley, surrounded by the high rocks
Tunda Vala
Another impressive viewpoint is Tunda-Vala , a breathtaking canyon at 1,000 meters that has been carved out of the Chela escarpment. The view extends far inland, with the town of Bibala to the north.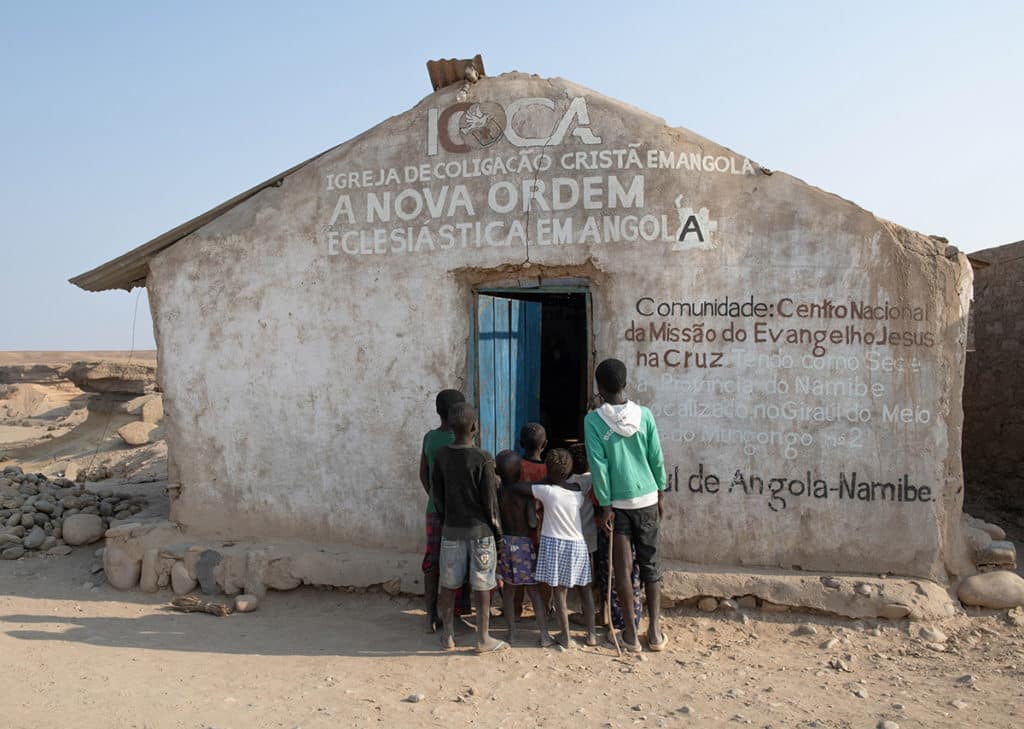 Giraul Oasis
In the middle of the Namibe desert lies the remote plateau Giraul Oasis . Here lives the community of Ilha Mungongo, which from 1975 maintained a polygamy with 55 wives and 145 children! The people live on the fertile raw materials that the lower-lying oasis offers them. The friendly people tell about the fertile raw materials that the oasis offers them and how important faith is to them. It forms a surreal spectacle.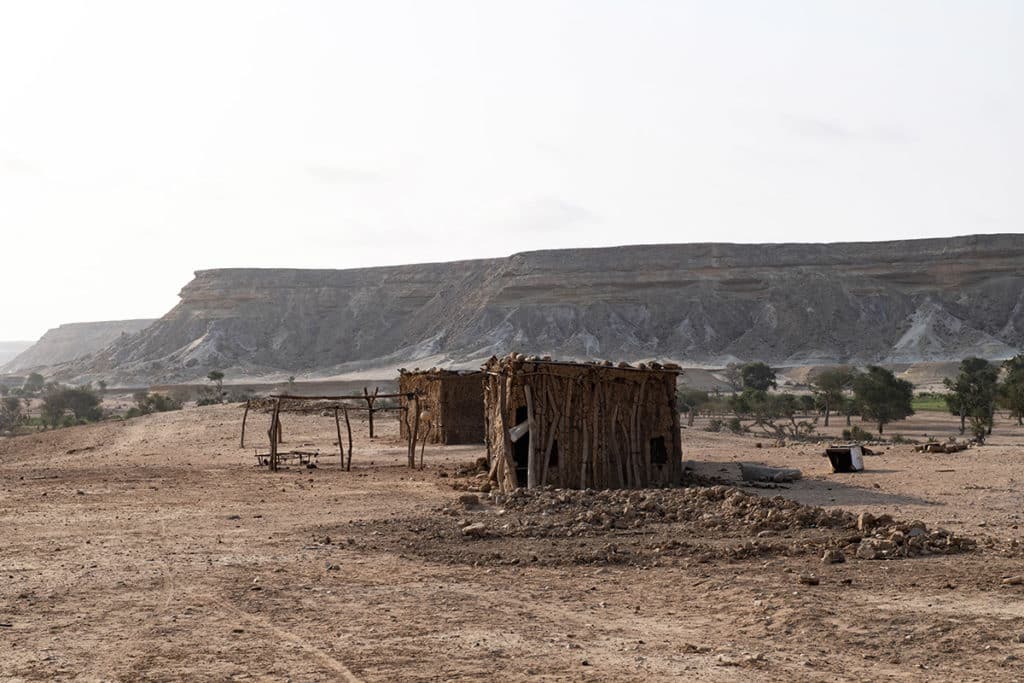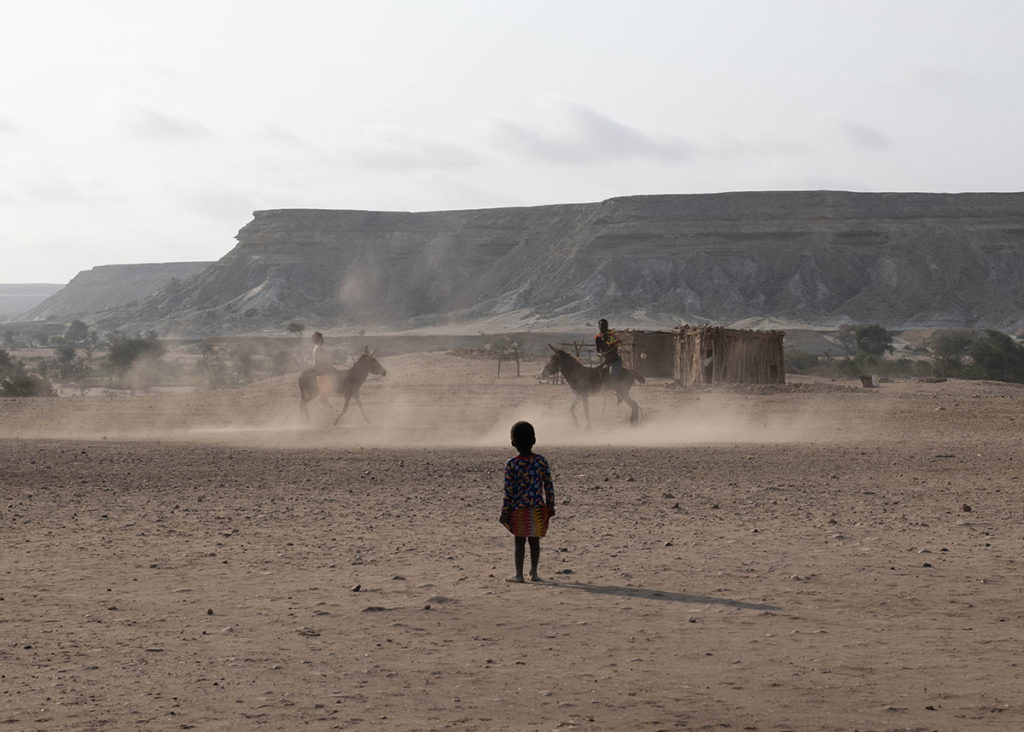 Curoca Oasis
On the edge of the Iona coast, a number of surprising natural phenomena can be found. Such as the imposing petrified dunes of Curoca Oasis .
Colinas
Close by is the hidden and even more impressive Colinas gorge. The red rock looks fragile due to erosion, but imposing for its size. And special, it is very quiet when you walk between the meter-high gorge.
Arc
In the same area is Arco , a dry lake surrounded by high dunes and rocks. Guide Joakim has lived there all his life, despite the fact that his grandfather, father and brother drowned while fishing. At the bottom of the lake are treacherous grasses that pull you down like quicksand. Between December and April, the area transforms into a fertile environment due to the high water level, which can reach up to five meters.
Kissama National Park
With Last Places you can take a day trip to Kissama, one of Angola's few National Wildlife Parks. Due to forty years of war, the game population has almost completely expanded; like the national symbol the sable antelope.
At the end of 2002 there were two generals, Luís and António Faceiro, who wanted to restore the game population. Ironic, because they were partly responsible for the decimation of the wildlife in Kissama. After years of lobbying, a park of 10,000 km2 has been set up, in which elephants, zebras, giraffes and antelope species have been reintegrated from neighboring countries. Sadly, due to less oversight during COVID, 73 giraffes and 5 elephants have been killed. There are only 2 giraffes left and 295 elephants. Fortunately, the situation is stable again. Do not expect to see large numbers of animals, but with a bit of luck you will spot an elephant. And the landscape is unique, with savannas full of Baobabs, meter-high cacti and red winding roads and green marshes bordering the Kwanza River.
Travel time: 2.5 hours from Luanda to Kissama.| costs: approx. €100 -125 pp for a 2-3 hour safari, including guide and transport.
Want to read more about Angola? Then read HERE about Street Art tips in Luanda and Lubango.