Something is going on in the remote province of Nieuw-Amsterdam in the province of Drenthe. Civil (stand-up) caravans and tents make room for an old yellow school bus, a huge teepee tent, a converted sea container and that's only the beginning. It's brimming with creativity at the sustainable Camping BuitenLand , where five friends, including Esther Reijn and Floortje Dessing, will breathe new life into anything but a standard campsite.
Text: Angelique van Os | Photography: Camping BuitenLand
She is sitting behind the computer in a small office, busy calling, while her partner, Wessel van Dijk, puts a cup of ginger tea in front of me. The somewhat messy kitchen has a nice view on a large meadow. Wessel stares at showers. This is a bit different from the hectic Amsterdam, but there is plenty to do. A small team has been working hard for months to rename Camping BuitenLand a creative meeting place. Esther Reijn is now joining the team, while Van Dijk is working on a reservation system. The couple runs the daily management of BuitenLand together, but the hard core is bigger. The smiling river Rhine tells how they, together with three other friends and co-owners, Tjitte Jan Nieuwkoop, Martijn Dubbeldam and programme maker Floortje Dessing, ended up in the quiet Nieuw-Amsterdam/Zandpol. "Wessel and I renovated an old building in Curaçao and ran a bed & breakfast there for seven years. When we returned home to Amsterdam, the weather was itchy. We were ready for something bigger: creating our own little world, where people can easily get in touch with each other. This time in the Netherlands. This place, which was no longer a running company, we found fairly quickly once we knew what we were looking for. There is so much freedom, there is forest, peace and quiet, a natural source of water and we have enough space to build small houses that can be disassembled."
Colourful place
The couple doesn't just run the large-scale project, which is nice because everyone has their own expertise, says Reijn. "Martijn is a contractor, so that's very handy, Tjit likes to organise parties and Floortje is actually the most renowned businessperson of all of us and has a fantastic network. Sustainability is the guiding principle here. Of the approximately 240 camping pitches, approximately 80 pitches have been reserved for self-designed and self-built cottages that can also be rented out. This does not only happen under its own management; Reijn calls on interested parties, from architects to builders, to submit a building plan to it. This creates a colourful place full of surprising creations with a great community feeling, because the builders feel very involved with the campsite. Those interested are asked to make the houses winterproof with good insulation and heating, but the most important condition is that the house is unique.

Dome village
When I stroll with Wessel van Dijk over the green terrain, the first lines of the quirky camping site are visible. The BuitenBar looks like a large living room, with various sofas and chairs and a central wood-burning stove. Outside there are long tables set up for a large communal dinner.
The first construction projects have been completed, such as the converted sea container de Wildernis, which has an industrial look and beautiful glass facade with a view of the grounds. A few fields further on, plumes of smoke are swirling out of two metre-high white teepee tents and at the edge of the surrounding forest stands the first wooden Dome. Esther Reijn said earlier: "There will be about five of these domes that can be rented individually, but are ideally suited for larger groups because they will form a kind of village. At the top is a dome, so you can look at the stars from your bed. The dome that is now on display is a test construction and transparent. They're going to put in a trampoline for a view of the stars, a wonderful place to hang out." This idea was conceived by 't BuitenLand, another campsite with the same name. "Floortje and I started talking to them about a possible collaboration, which clicked right away. Because they themselves have few opportunities to expand and we are open all year round, the 'Dome village' was a nice addition for both parties. They will build it and we will rent it out.
The biggest trump card has yet to come: the nearby Sandpolse plas, which is openly accessible and is fed by natural water sources. Ideal for parties and small-scale festivals.
Camping BuitenLand is a work in progress, but its potential is clearly visible and in winter it should be a wonderfully quiet place where creative people can isolate themselves and work. Esther Reijn is looking forward to the high season: "Everything we organise is vibrant. It seems as if there is a magnet here that attracts people and ideas. I'm always amazed by that. That is so inspiring, very special."
Own energy
Cameraman and filmmaker Tjitte Jan Nieuwkoop walks into the kitchen and talks about the green philosophy. "We investigate how we can best apply the distribution of energy generated by exchanging solar panels (mini-grid). We focus on a system where we can generate our own energy and be self-sufficient as much as possible. There are many different options, so we want to find out more and we are looking for a new solution. The people who come here think along with us; together we're nicer-pioneering. Maybe a multi-year plan, although it starts with green electricity from Power Peers, solar boilers from Solar Zon-techniek are on the roof and in the summer the shower water and in the winter the restaurant is heated. The sanitary facilities also use heat pipes.
Another point of attention is responsible and organic food. The restaurant serves fresh, mainly vegetarian dishes, the meat comes from free grazing cows in nature reserves in Drenthe and there is organic beer from Limburg. The team uses sustainable paint based on water and linseed oil and this list of sustainable products and partnerships with companies will be further expanded in the coming period.
Open stage
In addition, there is a lot of attention for cultural and artistic activities, where there is also room for quality entertainment for children. Nieuwkoop organised a Pentecost festival during the opening and in July the travelling (food) festival Convoi de Fête came along. There is also an 'open stage' where people offer workshops, courses and activities such as theatre, yoga, massage and welding workshops. Reijn explains: "We have received so many reactions from people who want to organize something that we want to give everyone a chance and give camping guests the opportunity to indicate what they like".
TIP:
Camping Buitenland has had its second season and is running very well. Reservations are therefore advisable and sometimes even necessary. And for those who don't like camping – like me – there's something for everyone in this quirky place, because there are several accommodations that offer a lot of comfort and space. For more info: buitenland.com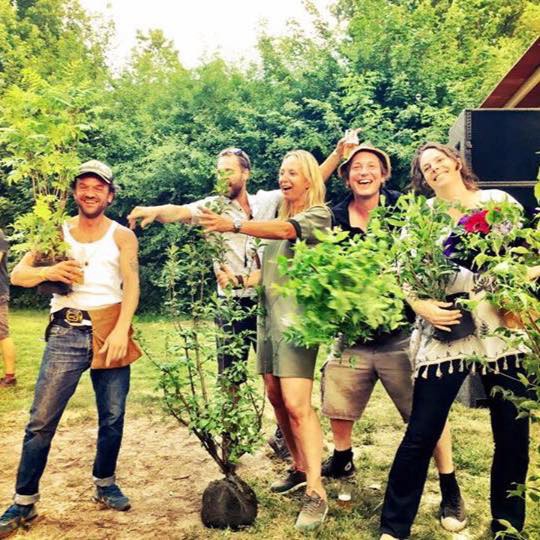 Brabantse 't Buitenland shares the same name with Camping BuitenLand. Mongolian Yurts and Finnish Kotas are at the heart of this sustainable camp. There is also a hot tub, fire baskets and teepee tents. For more information: het-buitenland.nl